Drs. John and Caitlin (Cait) Haydek are one of our fantastic #EmoryIMResidency couples. They met on the soccer field, but they also share a love of medicine. They got married prior to beginning their residencies.
John, a PGY1 resident, was born and raised in Knoxville, Tennessee. He completed both his bachelor's degree and his MD at Emory University. He chose to remain at Emory for residency because of the advanced research opportunities offered at Emory University Hospital (EUH) and EUH Midtown; the opportunity to care for Grady Memorial Hospital's large, under-served population; and because he wanted to remain close to family and friends.
John comes from a "medical family" — his father is a gastroenterologist and a pharmacist, and his mother is a pharmacist. He is the oldest of three children, and both of his siblings attend medical school. John's sister is an MS1 at Vanderbilt University, and his brother recently matched into Emory's incoming intern class from Loyola University.
John's long-term goals are to pursue a gastroenterology fellowship while continuing to teach medical students, perform innovative research, and travel the world with Cait. In his free time, he enjoys being outside. He loves spending time on the Atlanta BeltLine and backpacking through remote areas. His most memorable trip is backpacking through Patagonia.
Cait is a transitional-year intern in the J. Willis Hurst Internal Medicine Residency Program. She grew up in Pensacola, Florida and completed her undergraduate degree at Amherst College in Massachusetts. She decided to attend Emory for medical school because of the incredible clinical experiences and diverse patient populations, the camaraderie between and among students and faculty, and to be closer to her family.
Cait also grew up in a medical family. Her father is a urologist, and her mother is a pediatric nurse practitioner. Ultimately, she hopes to practice academic dermatology. She will continue her training next year as a dermatology resident.
In her free time, Cait loves to bake and try new recipes. She also enjoys playing soccer with her new husband (and beating him a few times) as well hiking (as long as she doesn't have to carry her own sleeping gear). She hopes for the opportunity to travel more often and to continue to expand her cooking skills.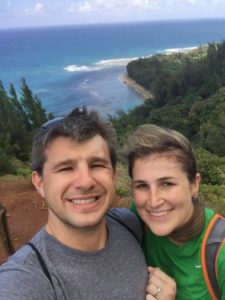 Related Links
More about the Emory Department of Medicine's residency program
Emory's J. Willis Hurst Internal Medicine Residency Program offers several residency training pathways, including: