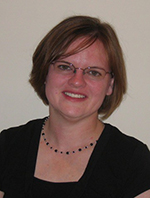 Kari Esbensen, MD (Emory Division of Hospital Medicine) was recently awarded a Fostering the Academic Mission in the Emory Department of Medicine (FAME) Grant for her application, "Deepening the Interview with Seriously Ill Patients: Implementing and Evaluating a Structured Bedside Curriculum to Enhance Communication Skills, Empathetic Listening and Reflective Practice among Third-year Students on the Medicine Clerkship."
The FAME Grant program provides financial support that enables faculty members to dedicate up to 20 percent of their professional time to scholarly activity.
More about Dr. Esbensen's FAME Grant research
Communication with seriously ill patients is an essential element of high-quality health care. Communication about goals of care is a low-risk, high-value intervention that leads to markedly improved patient outcomes. Conversely, failure to address patients' goals and preferences leads to significant harms, including worse quality of life, prolonged suffering, undesired hospitalizations, increased grief among bereaved family members, and increased costs without benefit to patients, and "physician burnout."
Despite their importance, communication and interpersonal skills among clinicians are rarely explicitly taught during the clinical years of undergraduate medical training. Dr. Esbensen argues that this need appears to exist at Emory as well, as evidenced by her informal questioning of medical students, in which approximately 50 percent of respondents reported that they have never been observed by an experienced clinician discussing prognosis, goals, fears, preferences, etc. with seriously ill patients.
Moreover, nearly all Emory medical students and/or residents reported having to engage in such conversations independently with a patient, and many described feeling uncomfortable and unprepared to do so. Therefore, Dr. Esbensen argues that there appears to be largely unrecognized urgency to determine how to best utilize medical students' limited and extremely valuable clerkship time so as to maximize their acquisition of essential competencies, including these key communication and interpersonal skills.
Dr. Esbensen aims to implement a novel communication skills curriculum that prioritizes enhancing students' skills and confidence in communicating with seriously ill patients; evaluate the feasibility and effectiveness in addressing students' communication skills training needs; enhance student opportunities for scholarship by mentoring students in developing reflective pieces for publication; and build upon this study to seek extramural funding for subsequent projects, disseminate these findings in medical education literature, and improve medical education both at Emory and in the broader medical education community.
Related Links
If you are interested in investing in research, clinical care, and education within the Emory University School of Medicine's Division of Hospital Medicine, learn how you can help.