The Emory University School of Medicine chapter of Kidney MAPS, sponsored by the Division of Renal Medicine, held their first health fair of the year on Saturday, July 23, 2016 at the Carrie Steele-Pitts Home. Emory team members Loren Cobb, William Reis, Peter Daring, Brittany Thomas, MD (alumna), and Jason Cobb, MD participated in the fair.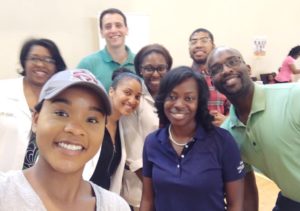 The team's next annual medical mission trip with Ray of Hope Christian Church in Edison, GA is on August 27, 2016.  The Kidney MAPS team will also participate in another health fair in October.  If you are interested in volunteering please contact Jason Cobb, MD.
Kidney MAPS (Mentoring and Assessment Program for Students) was established by the American Society of Nephrology (ASN) to promote interest in nephrology careers through student-organized community screening programs that identify people at risk for kidney disease in medically underserved communities. Each chapter is supported by practicing nephrologists who volunteer their time and mentor medical students.
The goal of Kidney MAPS is to recruit and mentor the next generation of nephrologists early in their careers by showing students the risk factors for chronic kidney disease, the effects of kidney disease on public health, and the increasing need for medical professionals to help combat it.
For more information on Kidney MAPS, please contact Assistant Professor Jason Cobb, MD (Division of Renal Medicine).
Related Links 
• Emory Department of Medicine, Division of Renal Medicine
• American Society of Nephrology (ASN)
• Emory University School of Medicine