Cascade Users,
For the past few months, Emory LITS Web Hosting Group and University Communications & Public Affairs have been preparing for the upgrade to a new version of Cascade Server. We have reached the point in that process at which we need the vendor's help to clean up the remaining legacy sites and assets in the "Global" area of Cascade. The Global area must be cleared before we can upgrade to the newest supported version of Cascade.
To complete that process, the vendor has scheduled a soft change freeze from Sunday, 9/17 at 6 p.m. until Friday, 9/22 at midnight. Depending on the progress of their work, the period may not last the full week.
What does this mean for you? 
You can continue to make changes and publish as usual during this period. However, at the end of the change period, all pages and assets in Cascade will revert to their state at the beginning of the change freeze (9/17).  The files on the web servers will not be impacted.
This means that you may want to:
1) Plan for an interruption in any current development processes you may be working on;
2) Limit any edits/changes made during the soft change freeze period to urgent updates
and;
3) Document any changes you make to pages/content and re-apply those changes after the freeze is lifted.
4) Post-change: Note that any changes you publish to the web servers from Cascade during the freeze will remain, even though they no longer exist in Cascade after the vendor's work is done.  For consistency's sake, you will likely want to make the edits again so that they show up in future publishes.
Should the vendor's work be completed before the scheduled end of the freeze, Emory LITS will provide at least 24 hours' notice before reverting the database.
We realize there is no ideal time to have such an interruption, but we have been working diligently to minimize the impact of the interruption.  Once the change is complete, we will send out further communication about the upgrade to Cascade 8 and opportunities to test the new environment before we schedule the upgrade.
If you have any questions about the process or the impact of these changes, please contact webgroup@emory.edu.
Overall Project Timeline (Currently at Step #2 – all dates tentative):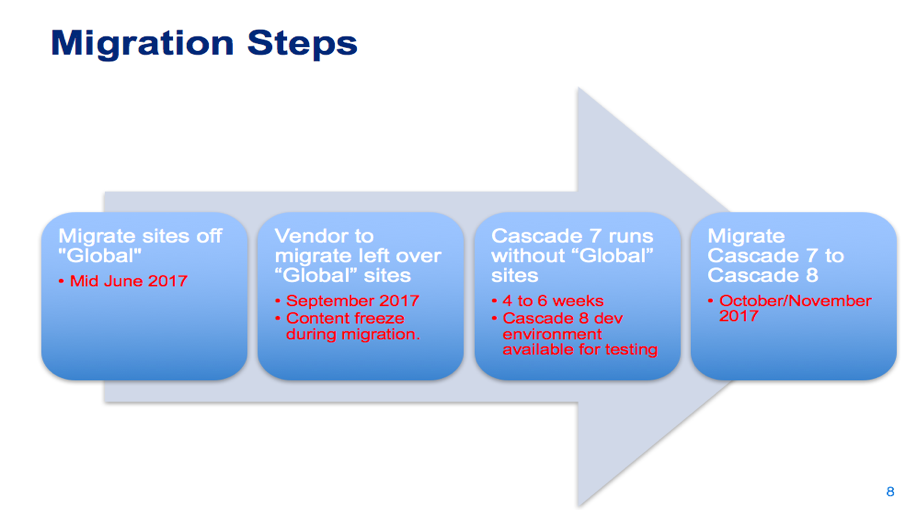 Related Links