An estimated 10 million Americans suffer from atrial fibrillation (AF). The current medications to treat AF have low success rates and potentially toxic side effects. With preclinical help from T3 Labs and the support of experts within the Atlanta medtech ecosystem, Dr. Rebecca Levit aims to change that.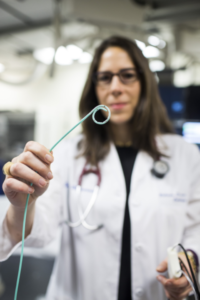 Dr. Levit is Assistant Professor of Cardiology in Emory University's Department of Medicine and adjunct faculty in the Department of Biomedical Engineering at the Georgia Institute of Technology. She is also the Chief Scientific Officer of CorAmi Therapeutics. CorAmi is working in partnership with Emory University to develop a combination hydrogel delivery catheter and therapeutic hydrogel focused on cardiac applications, leading with a treatment for AF. The technology was initially conceptualized in Dr. Levit's lab at Emory University.
Dr. Levit's preliminary data collected at T3 Labs shows that the technology is effective in changing the electrical tendencies of the heart: a prospective game-changer for the estimated 10 million Americans and 30 million worldwide living with AF.
The current standard of care for AF rate controlling is antiarrhythmic medications or a highly invasive procedure where the heart is ablated at the areas of AF, the success rate for which is low. Amiodarone is a drug used for treating AF but builds up toxic levels in the  liver, lungs, and thyroid. Due to its chemical properties rarely does it end up in the heart where it should be. CorAmi aims to change that.
The team has developed a unique catheter design that allows placement of therapeutics directly in the pericardial space of the heart ensuring efficient delivery and minimizing any harmful effects to surrounding organs; all without requiring open heart surgery. The procedure is minimally invasive, can be done in a cath lab, and only takes about 30 minutes.