Jamal Hajjari is a 2nd-year resident in the Emory J. Willis Hurst Internal Medicine Residency program. Jamal was born and raised in Fez, Morocco before moving to Syracuse, New York to pursue his undergraduate and graduate training. He studied medical bio-technology as an undergraduate and obtained a master's degree in medical technology. He then attended medical school at State University of New York (SUNY) before coming to Emory for his residency training.
"Emory was my first choice, and I feel very lucky to have matched at Emory's medicine residency program," Jamal said. During his interview process, he was highly impressed by the quality and diversity of the medicine program and was enthusiastic about the opportunity to train and rotate through four different Emory hospitals. He knew that each hospital would present a diverse patient population and a rich and valuable learning experience.
Jamal's goals for his residency training are to sharpen his academic knowledge, gaining hands-on clinical experience and pursuing research opportunities. After completing his residency training, Jamal plans to purse a fellowship in interventional cardiology.
Jamal met his wife, Lamiae, through family while she was completing her master's degree in systems engineering in Chicago. She will soon pursue an MBA in Atlanta. The couple have a 3-year-old daughter and a 6-month-old son.
While having two young children does not leave Jamal or his wife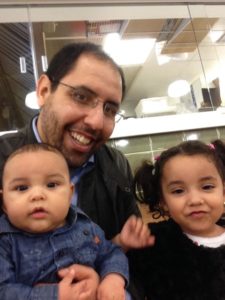 with much free time, his family loves to swim and shop. They spend much of their free time with children's activities, such as visiting museums. Despite living in the United States for more than a decade, they still maintain Moroccan traditions at home, though they enjoy trying other cuisines when they go out to eat.
More about Emory University Department of Medicine's residency program
Emory's J. Willis Hurst Internal Medicine Residency program offers several residency training pathways, including:
Related Links
If you are interested in investing in the J. Willis Hurst Internal Medicine Residency Program, please visit our website to learn how you can help.