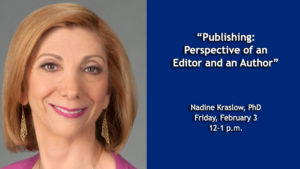 Please join us on Friday, February 3 from 12-1 p.m. for "Publishing: Perspective of an Editor and an Author," part one of a three-part seminar series on scientific publishing. The lecture, presented by Nadine Kaslow, PhD (Professor and Vice Chair for Faculty Development, Department of Psychiatry and Behavioral Sciences, Emory University), is co-sponsored by the Department of Medicine, Woodruff Health Sciences Center Library, and the Emory University Scholarly Communications Office. Pizza and drinks will be served.
Details
Date: Friday, February 3, 2017
Time: 12-1 p.m.
Location: School of Medicine, Room 178P
The remaining two scientific publishing seminars will feature one of the founders of DataMed discovery index (Thursday, February 23) and editors of Cell review journal (Thursday, April 20). For more information, please contact Dr. Hannah Rutledge at hannah.rutledge@emory.edu.
Related Links