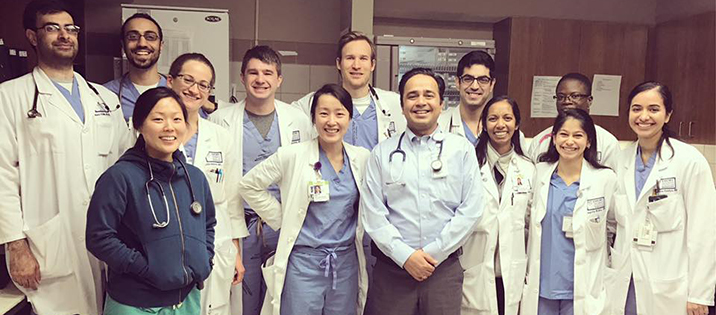 Emory internal medicine residents have been working hard this winter caring for our patients. Check out some of the #RealResidentHeroes that we heard about in December and January:
Cindy Ye was recognized by an attending physician for always going above and beyond and keeping her cool in the MICU, despite chaos.
Vera Tate covered for a sick intern on a short call day with 18 patients to avoid calling jeopardy.
Kayla gave a shout-out to Abhi Kole for stepping up to cover both Grady NF Cx pagers, which enabled her to deal with two sick patients.
The night float crew received an anonymous gift of pizza during the first night of New Year's HFTH. Further investigation revealed it was Tram Jones, who was not on night float at the time.
Ankit Bhagavra helped locate a missing co-resident but offered to cover a half-day of clinic to ensure optimum patient care.
The Emergency Medicine Department presented honors to Alexandra Seamens, Maureen McCamley, Dean Thongkham, and Mohammed Merchant for their dedication and hard work during an ED rotation
Raj Dalsania received commendation from a MICU resident for his calm, collected demeanor and excellent leadership while running codes.
Thank you to all Emory internal medicine residents for your hard work and dedication!
More about the Emory University Department of Medicine's residency program        
Emory's J. Willis Hurst Internal Medicine Residency Program offers several residency training pathways, including: