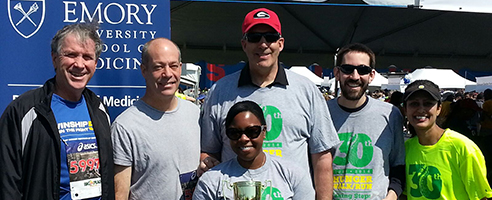 Join the Department of Medicine's Hunger Walk/Run team as we support efforts to eliminate hunger and poverty in the Atlanta area. This year's event, which will be held Sunday, March 13 on the Turner Field Green Lot, will be a wonderful opportunity to strengthen our sense of community and collegiality not only within each division, but also across the department. Check-in will be at 12 p.m. (noon) and the event will begin at 2 p.m. For more information, please visit the Hunger Walk/Run website or contact your division's "champion."
Who will win the 2016 Chairman's Cup?
The department will hold a friendly competition to see which division can record the highest participation (based on overall percentage). Will the Division of Pulmonary, Allergy, Critical Care and Sleep Medicine win for the fourth year in a row? The teams will be as follows:
1. Cardiology
2. Digestive Diseases
3. Endocrinology, Metabolism and Lipids; Rheumatology/Immunology
4. General Medicine and Geriatrics
5. Hospital Medicine
6. Infectious Diseases
7. Pulmonary, Allergy, Critical Care and Sleep Medicine
8. Renal Medicine
9. Residents
Registration is open now through Wednesday, March 9. This event is family-friendly, so register family members, too!
1.Go to the Department of Medicine's team page.
2. Click "Join Team."
3. Select Walker or Runner, click "Next."
4. To search for our team, enter "Emory Department of Medicine" and click "Search for a team." When Emory Department of Medicine appears, click "Join Team" at right.
5. If you have participated before, log in. Otherwise, select "Join as a New Participant."
6. New users: Enter the required information for a new user, and click "Next Step."
7. Review and agree to the waiver.
8. If you are registering friends or family, select "Register Additional Person." Otherwise, click "Complete Registration." You will be prompted for payment information.
Can't participate in the Hunger Walk, but still want to be involved?
You can make a donation to support the Department of Medicine team by visiting our team page. Click "Donate Now" at the right of the team picture, and follow the instructions to make an online gift.
Related Links