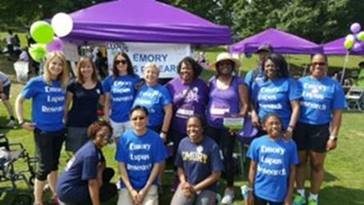 Join Emory's "Hope on the Rise for Lupus" team for the 2017 "Walk to End Lupus Now," hosted by the Lupus Foundation of America. In 2014, 2015, and 2016, the Emory team raised more than $20,000 for the cause.
Proceeds from the event are used to support lupus patients throughout Georgia by providing financial assistance and funding support groups, educational programs, and other efforts.
Details
Walk to End Lupus Now
Date: Saturday, April 29, 2017
Location: Piedmont Park
Time: 11 a.m.
The Emory team is led by Emory University Division of Rheumatology leadership. Many of the faculty and staff will be walking with you!
Team Contacts:
Mercemarí Toyéns-Nieves
Administrative Assistant
Divisions of Rheumatology/Immunology
mtoyens@emory.edu
Phone: 404-712-2945
Charmayne M. Dunlop-Thomas, MS, MPH
Research Projects Manager
Division of Rheumatology
404-251-8898
404-688-6352 (Fax)
cmdunlo@emory.edu
Jennifer Scantlin, BSN, RN
Nurse Manager
Division of Rheumatology
404-712-0971
404-778-3217
Jennifer.scantlin@emory.edu
What is Lupus?
Lupus is a chronic autoimmune disease that can damage any part of the body. The immune system is the part of the body that fights off viruses, bacteria, and germs. In a healthy person, the immune system produces proteins called antibodies that protect the body from these invaders. Lupus auto-antibodies cause inflammation, pain, and damage in various parts of the body, and these symptoms often last longer than six weeks–sometimes for years. Learn more about lupus
Related Links
If you are interested in investing in research, clinical care, and education within the Emory University School of Medicine's Division of Rheumatology, learn how you can help.