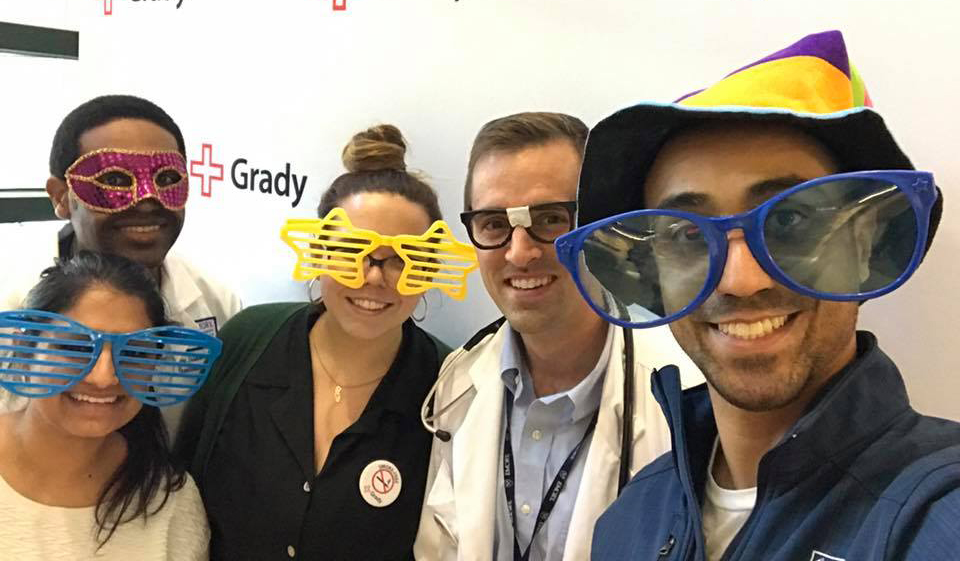 Emory internal medicine residents have been working hard this fall caring for our patients. Check out some of the #RealResidentHeroes that we heard about in October and November:
Rob Heinl, Alexander Dabrowiecki, and Katryna Lim attended the concert of a patient who was discharged from the hospital.
Komal Mehta received patient feedback for a great first-visit experience.
Akanksha Vaidya and Devinder Dhindsa were recognized by a patient for helping him make a tough decision (the patient was recently discharged).
Harry Aung was complimented by a fellow for taking a great patient history that led to a diagnosis.
Sumita Trivedi got a shout-out from the oncology clinic for being enthusiastic, helpful, knowledgeable, and loved by the patients.
Nibal Rizk covered an additional two days of Jeopardy to maintain continuity over Thanksgiving, preventing another intern from being called in over a holiday.
Hematology/oncology attendings were thrilled with Caitlin Taylor for her efficiency, knowledge, and wonderful patient interactions.
Demetria Smith and Deepak Ravindranathan were recognized by outpatient oncology for their clinical acumen, dedication to patient care, and participation in scholarship during their rotation.
An SIS attending praised Neil Patel and Kajal Patel for their excellent patient care in a high volume, short-staffed day.
Okechukwu Mgbemena received a shout-out from the rheumatology clinic for his dedication, empathy, and medical skills.
A clinic attending praised Aubrey Grant and John Ricketts for their teamwork–they voluntarily stayed late to help others at the end of their clinic day.
Thank you to all Emory internal medicine residents for your hard work and dedication!
More about the Emory University Department of Medicine's residency program        
Emory's J. Willis Hurst Internal Medicine Residency Program offers several residency training pathways, including: