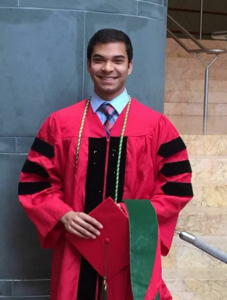 Dhruv Amratia, MD (PGY-1) completed his undergraduate and medical school training at the University of Cincinnati before coming to Emory for his internal medicine residency.
Dr. Amratia was born and raised in Kenya, where he grew up speaking five languages, including Swahili and French. His family now lives in Charlotte, North Carolina, and his sister has just entered her second year of medical school.
In his free time, Dr. Amratia plays soccer, rock climbs, and plays the ukulele. He also recently started playing golf again after 10 years. Soon, we expect him to be giving Dr. Ramonell (chief resident at the VA) some tough competition at the range.
Related Links
More about Emory University Department of Medicine's residency program        
Emory's J. Willis Hurst Internal Medicine Residency Program offers several residency training pathways, including: