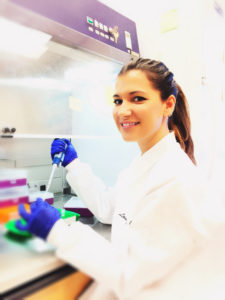 Alessia Corrado, PhD is a post-doctoral fellow in the Division of Pulmonary, Allergy, Critical Care and Sleep Medicine working in Dr. Frances Eun-Hyung Lee's lab.
The lab's main focus is to understand the biology of human plasma cells in health and disease. In particular, Dr. Corrado studies human IgE antibody-secreting cells in allergic/asthmatic patient's bone marrow, blood, and respiratory tissues.
The goals of her project are to delineate the subset of plasma cells that produces IgE antibodies in different human tissues and to evaluate whether a long-lived compartment for these cells exists in specific survival niches and account for the perpetuation of the allergy. By analyzing immunoglobulin genes repertoire by deep sequencing, she hopes to delineate the relationships between various B cell compartments in order to gain a better understanding of the developmental stages of IgE antibody-secreting cells.
Dr. Corrado enjoys spending her free time with her fiancé and their friends. She also loves to cook, explore new cuisines, and travel at every opportunity.
Related Links 
*If you are interested in investing in the Emory University Department of Medicine research, please visit our website to learn how you can help.