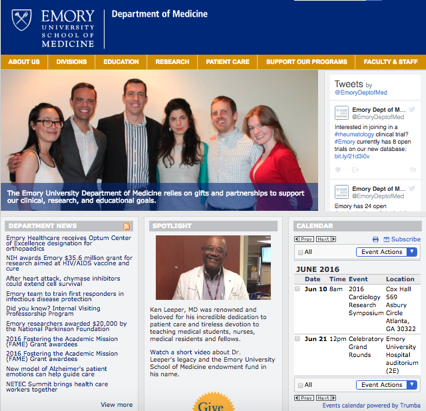 Check out the Department of Medicine's new and improved home page at www.medicine.emory.edu. The home page, which has been redesigned for increased functionality, includes rotating images of Department of Medicine faculty and staff, our Twitter feed, a departmental news feed, opportunities to give, a featured events calendar, and links to the Department of Medicine's Facebook, Twitter, and YouTube pages.
Is your faculty bio up-to-date? Visit bitly.com/emory-facbio to check. Your bio is visited by colleagues, prospective residents, students, and patients. Please send edits and/or photos to Kelly.Johnson@emory.edu. If you do not have a recent professional photo, please contact us.
Follow us on Facebook, Twitter, and YouTube to stay connected and learn about important Department of Medicine news.
Related Links
*If you are interested in investing in research, clinical care, and/or education within the Emory University Department of Medicine, please visit our website to learn how you can help.