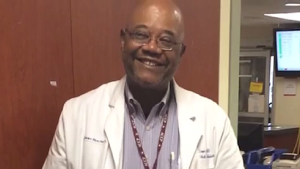 Ken Leeper, MD was renowned and beloved for his dedication to patient care and tireless devotion to teaching the next generation of clinicians. In this short video, Denise Cardo (his wife); Alvaro Velasquez, MD; and David Guidot, MD discuss Dr. Leeper's legacy and the Emory University School of Medicine endowment fund in his name: bit.ly/ken-leeper-video
To make a contribution to the Kenneth Leeper Memorial Education Fund, please visit bit.ly/ken-leeper.
Related Links
If you are interested in investing in research, clinical care, and education within the Emory University School of Medicine's Division of Pulmonary, Allergy, Critical Care and Sleep Medicine, learn how you can help.
Photos from the inaugural Kenneth Leeper Memorial Lecture (Thursday, April 7, 2016):