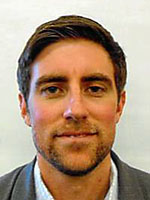 Ben DeMoss, MD will be the first fellow to complete a dual fellowship in cardiovascular disease and critical care. He is currently in the final year of his cardiovascular fellowship and will begin his critical care fellowship in 2016-2017.
Dr. DeMoss says, "the critical care fellowship will provide a unique opportunity to work alongside intensivists with backgrounds in pulmonary and critical care medicine, anesthesiology, cardiac surgery, surgical critical care, and neurosciences critical care." In the critical care program, he anticipates gaining in-depth knowledge of critical care medicine and acquiring advanced clinical skills in the management of hemodynamic support devices, such as mechanical ventilation, ventricular assist devices, extra corporeal membrane oxygenation, and continuous renal replacement therapy. His clinical experience will be augmented by educational opportunities including faculty mentorship, journal clubs, case presentations, clinical research, and attendance of national conferences. Dr. DeMoss will then have the necessary skill set to lead a team of physicians, nurses, affiliate providers, and students in the care of critically ill patients.
After he completes the critical care fellowship, Dr. DeMoss plans to pursue a fellowship in Advanced Heart Failure Therapeutics and Transplantation. When not on service in the intensive care unit, he hopes to care for patients with left-ventricular-assist devices and heart transplants. He then hopes to work in a tertiary care center that treats critically ill patients ailing from a wide spectrum of cardiovascular disease pathologies.
Dr. DeMoss received his undergraduate and medical degrees from Indiana University and completed his residency at Emory University. In his spare time, he enjoys spending time at Piedmont Park with his dogs, snowboarding in the Rocky Mountains, traveling abroad with family and friends, and learning to rock climb.
Related Links
If you are interested in investing in education within the Emory University School of Medicine's Department of Medicine, learn how you can invest in us.