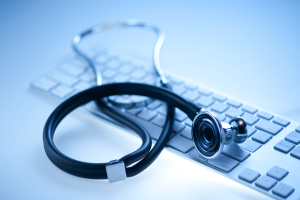 Doximity is the leading virtual medical professional network, with half of U.S. physicians as members–and it's free. On Doximity, physicians can use their iPhones, iPads, Android devices, or computers to securely collaborate with other physicians and stay informed on the latest medical news. Once you've claimed and verified your professional profile, you are given a free digital fax line and access to several other time-saving tools.
Why you should join:
Each summer, U.S. News & World Report publishes its Best Hospitals rankings. Emory Healthcare has consistently received high rankings, thanks to the expertise and accomplishments of our physicians and clinical team. To compile their rankings, U.S. News gathers feedback from a variety of groups, including members of Doximity. If you register for Doximity and verify your account (average processing time: three days) by Thursday, December 31 and belong to one of the 16 specialties listed below, you will automatically be asked to provide your input on the hospital reputation portion for the U.S. News rankings.
Department of Medicine specialties guaranteed to get a survey:
Cardiology and Heart Surgery
Diabetes and Endocrinology
Gastroenterology and GI Surgery
Geriatrics
Nephrology
Pulmonology
Rheumatology
Other benefits:
Social network and professional platform for physicians
Take control of your online reputation and make sure your data is up-to-date in U.S. News & World Report's Doctor Finder
Online rolodex
Professional profile page
Online CME tool, trackable credits, and automatic CME updates to your Doximity transcript
Customizable news digests of medical journals and topics of your choice
HIPAA-compliant email/fax/text service: registered Doximity users are assigned a lifetime fax number to send and receive secure fax messages between offices and/or pharmacies
Digital doctors' lounge for curbsides and conversation
Physician profiles are public-facing: your profile is searchable and viewable to the public at your discretion
Doximity profiles with photos get preferential search ranking, increasing the chances of someone finding you
How to edit your Doximity profile:
Log in to Doximity online:

https://www.doximity.com/signin

Click the 'PROFILE' tab hidden under your initials or your photo in the upper right corner of the screen.

On the left side of the profile, under your photograph or initials, select the blue 'EDIT YOUR PROFILE' Button. 

This will place your profile in edit mode and you will see 'EDIT' or 'ADD' buttons next to each category available on your profile.

Click the 'EDIT' button and make your changes.

Select the 'SAVE' button.

When you have finished updating your profile, select the yellow 'DONE EDITING' button on the top left side to view your profile as others see it.
How to update your Doximity profile picture:
You can update your profile picture at any time. Visit your profile, select 'EDIT,' and then upload the image. You can also email your photo to CVupload@doximity.com, and the Doximity team will upload the image for you. If you do not have a recent professional photo, please contact the Department of Medicine's Marketing and Communications team at DeptofMed@emory.edu.
Related links:
•      Sign up today
•      5 steps to claiming and completing your Doximity profile
•      Creating a Doximity Account (video)
•      Learn about Doximity's Residency Navigator feature