Madeleine Hackney, MD (General Medicine & Geriatrics) was recently awarded the 2015 Selma Jeanne Cohen Lecture Award by the Fulbright Association Board of Directors, and the Selma Jeanne Cohen Selection Committee (SJCSC).  Her research focuses on the design and optimization of creative movement/dance-based therapies to improve mobility, cognition and quality of life in older individuals with movement disorders. 
She will present her research findings Friday, November 13, 2015, from 7:30-8:30 p.m. at the World of Coca-Cola, under the theme of 'CREATING PATHWAYS TO PEACE: GLOBAL HEALTH & EDUCATION.'  More information.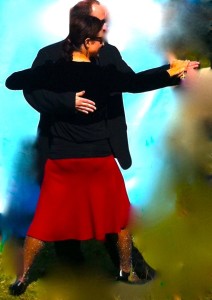 Upon reviewing her proposal, the reviewing committee commented, "Dr. Hackney's research on the connection
between tango mechanisms, cognitive involvement, and neurological rehabilitation shows broad impact of dance studies and movement forms across industries and generations.   The area of dance therapy has been marginalized in that there is a lack of rigorous research that has been done in it. As signaled by her impressive amount of refereed and media-related publications about the emergence of dance and neuro kinesiology, Dr. Hackney not only mitigates this marginality but also demonstrates the urgent need to wed performing arts and science."
About the Selma Jeanne Cohen Fund Program 
The Selma Jeanne Cohen Fund for International Scholarship on Dance honors the pioneering and seminal contributions of preeminent dance historian Selma Jeanne Cohen.  The Fulbright Association created the fund with a generous gift from Dr. Cohen in 2000 to recognize the importance of her Fulbright exchange experience in Russia and to perpetuate her interests in dance as an international enterprise.
Dr. Cohen was an historian, editor, and teacher who devoted her career to proving dance an art worthy of the same scholarly respect traditionally given to painting, music, and literature.  She was America's leading figure in dance scholarship and edited the six-volume "International Encyclopedia of Dance" (1998), the most comprehensive guide of its kind.  Dr. Cohen served as a dance critic for the "New York Times" and the "Saturday Review," wrote and edited several books, and taught at the University of Chicago and other higher education institutions.
The endowed lecture supported by the Selma Jeanne Cohen fund occurs at the Fulbright Association's annual conference, an important multidisciplinary forum whose participants are prominent Fulbright alumni, public officials, and representatives of the higher education and foreign affairs communities. The Selma Jeanne Cohen Fund provides an honorarium, round-trip travel funds, and expenses for a dance scholar to give a major presentation on dance scholarship at the conference.