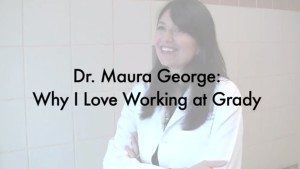 Working at Grady Memorial Hospital enables Assistant Professor of Medicine Maura George, MD (Division of General Medicine and Geriatrics) to pursue two passions–caring for the underserved and teaching. Dr. George helped develop the Social Medicine program at Emory University School of Medicine and has served as the course director of the Social Medicine elective, which teaches medical students and residents about the social determinants of health, patient advocacy, and cultural competency. Her research focuses on the social determinants of health and ethical obligations of physicians with respect to social justice. Currently, she is developing a chart analysis to identify patients admitted to Grady with high frequency in an effort to improve their care and optimize hospital resources.
Dr. Maura George: Why I Love Working at Grady (video)
It was an unlikely partnership—a newly formed, suburban medical school and an urban hospital for the poor—but it's one that has stood the test of time. For the past 100 years, every Emory medical student has received clinical training at Grady. This summer, we're exploring the remarkable history of Emory at Grady.
Related Links/Sources
• The Legacy of Emory at Grady: Notable Firsts
• Read Dr. Maura George's faculty biography
• Division of General Medicine and Geriatrics
• Raising the Bar: 150 Years of a Medical School in Motion
• Grady Health System
• Emory University School of Medicine
• Emory University Department of Medicine
• Jordan Messler's April 2015 presentation at Medicine Grand Rounds
• A Marriage Made in Atlanta
• Emory at Grady