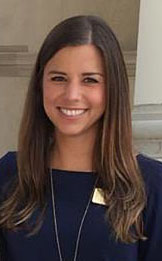 Lauren Powers joined the Department of Medicine team as senior manager of marketing on Monday, July 24. In her new role, Lauren will work closely with Emily Thomas, our communications specialist, as well as faculty and staff to plan and implement marketing strategies and oversee internal and external communications for the department. She will report to John Sauer.
Most recently, Lauren served as communications and special events manager at Emory University School of Nursing. Prior to that, she worked as the marketing and developing coordinator for the Susan G. Komen Greater Atlanta affiliate. She holds a bachelor of arts in mass communication, public relations from Louisiana State University.
Lauren can be reached at lauren.powers@emory.edu or (404) 727-0995. Her office is located in the Department of Medicine's administration suite at Emory University Hospital (H-153).
In her free time, Lauren enjoys reading and spending time with her husband, Matt, and their dog. She is also pursuing a personal training certification.
Please join us in welcoming Lauren to the team.