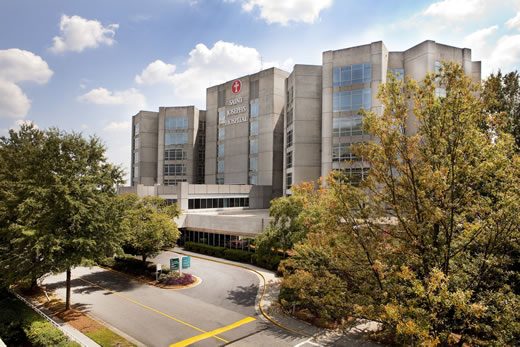 Kavya M. Sebastian, MD (Assistant Professor of Medicine, Emory University Division of Digestive Diseases) recently discussed the role of the gastroenterological team at Emory Saint Joseph Hospital's new Women's Center. The Women's Center is located at 5673 Peachtree Dunwoody, Suite 700. Specialists from the Emory Clinic provide comprehensive care in one location, including well-woman exams, prenatal care, minimally invasive gynecological surgery, menopause care, sexual dysfunction, incontinence, pelvic organ prolapse, and gynecologic cancer.
What are you doing in women's health at Emory Saint Joseph's Hospital?
"We evaluate and manage disorders of the GI tract that are specifically related to the unique physical, hormonal, and psychological differences that impact women."
How is this different from other places?
"As a member of the multidisciplinary team at the Emory Saint Joseph's Women's Center, I offer the opportunity for integrative medicine with a global approach to the care of individual patients."
How does this help our patients?
"This allows a patient to meet all the members of the team who will contribute to her medical issue in one visit. Each specialty involved is able to sit down and discuss the best coordinated treatment for the patient. For example, a patient may present with a history of constipation, pelvic floor dysfunction, and hypothyroidism. She can meet with me as the gastroenterologist in addition to the gynecologist who specializes in pelvic floor disorders and the endocrinologist who will treat her hypothyroidism. Further, the three teams will work together to review the next steps necessary to treat her, which is vital, as the three conditions interact with one another. Alternatively, a woman seeking a routine well visit screening could spend time with me planning for colorectal cancer screening, while also visiting the cardiologist to discuss screening for cardiac disease."
Are you doing any research on women's health in digestive diseases?
"I am interested in the role of psychosocial factors that lead to disturbances of the GI tract. Long term, I would like to recruit a psychologist to join the Women's Center team."
Anything else you would like to share about our program?
"We understand that women often have busy personal and professional lives that make it difficult to find time to take care of themselves. This is an exciting development in health care at Emory–to be able to provide them with high level, complex care in a setting that is supportive and uniquely designed for them."
Related Links:
If you are interested in investing in research, clinical care, and education within the Emory University School of Medicine's Division of Digestive Diseases, learn how you can help.