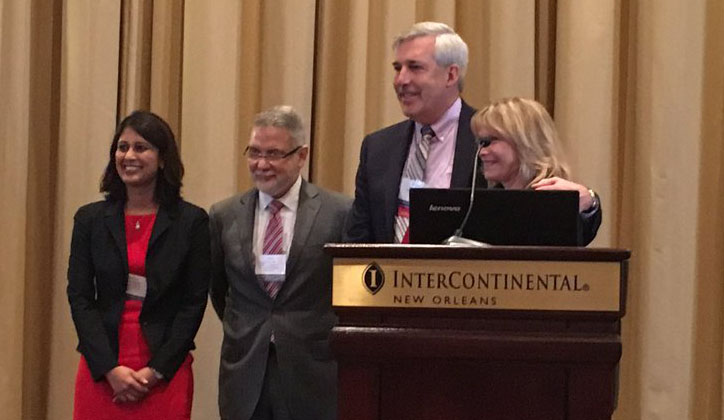 David Guidot, MD (Emory University Division of Pulmonary, Allergy, Critical Care and Sleep Medicine) recently received the 2017 Southern Society of Clinical Investigation (SSCI) Founders' Medal Award. To be considered for this prestigious award, the nominee must be a member who plays an important role in the SSCI, be recognized nationally as a leader in medicine, and be recognized as a leader in his/her institution.
Division of Infectious Diseases Director and Emory Department of Medicine Interim Vice Chair Monica M. Farley, MD was awarded the Founders' Medal Award in 2015.
At the conclusion of this year's SSCI meeting, Dr. Guidot was also named SSCI president-elect and will serve as president for the term of February 2018 – February 2019.
Congratulations, Dr. Guidot!  We are proud to have you on our team.
More about Dr. Guidot
Dr. Guidot's research career has focused on the mechanisms by which chronic insults such as alcohol abuse and HIV infection cause oxidative stress and render individuals susceptible to pneumonia and acute lung injury. He has been continuously funded by the NIH and the VA for two decades and directs a large multidisciplinary research program that spans experimental laboratory studies to clinical trials. He is a dedicated mentor who has trained more than 20 post-doctoral MD and PhD fellows, many of whom have remained in academic careers, and has directed an NIH T32 training program since 2002. Dr. Guidot also mentors multiple junior faculty investigators on their NIH- or VA-funded career development awards. He continues to see patients and supervise students, residents, and fellows at multiple sites within the Emory system, including the Atlanta VA Medical Center, the Emory Clinic, and Grady Memorial Hospital.  Full biography
Related Links
If you are interested in investing in research, clinical care, and/or education within the Emory University Division of Pulmonary, Allergy, Critical Care and Sleep Medicine, please visit our website to learn how you can help.