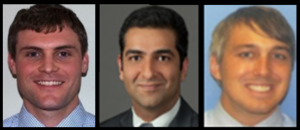 Please join the Emory University Department of Medicine at noon on Tuesday, February 14 for "Cardiac Arrest and Percutaneous Mechanical Circulatory Support for Cardiogenic Shock: Cases and a Review of the Literature," presented by Cardiology fellows Matthew Crim, MD, MSc, MA; Neal Kumar Bhatia, MD; and Frank Corrigan, MD.
Details
Date: Tuesday, 2/14/17
Time: 12-1 p.m.
Location: Emory University Hospital Auditorium (2E)
*Lunch will be served to residents.
Learning Objectives
Review recent Emory clinical cases of cardiac arrest and cardiogenic shock.
Review a treatment algorithm for cardiac arrest with a focus on prognostic factors and the roles of coronary angiography and targeted temperature management.
Review a treatment algorithm and recent evidence for use of percutaneous mechanical circulatory support in cardiogenic shock.
Remote viewing available. Visit www.bitly.com/grandround for more info.
Related Links
*If you are interested in investing in research, clinical care, and/or education within the Emory University School of Medicine's Division of Cardiology, please visit our website to learn how you can help.