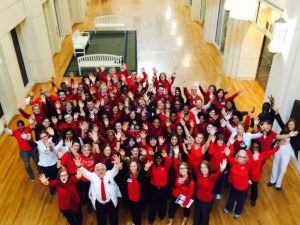 Gina Price Lundberg, MD, FACC (Emory University Division of Cardiology) is a preventive cardiologist with The Emory Clinic (East Cobb), the founder and medical director of the Emory Saint Joseph's Heart Center for Women, an assistant professor of medicine at the Emory University School of Medicine, and the clinical director of the Emory Women's Heart Center. She also has served on the ACCF Prevention of Cardiovascular Disease Committee and the AHA Multicultural Leadership Team for the AHA Southeast Affiliate. Dr. Lundberg has been instrumental to the success of the Emory Women's Heart Center–giving both her time and financial support. We recently interviewed Dr. Lundberg to ask her which Emory funds she contributes to and why.
"I give to the Emory Women's Heart Center and the Emory Cardiology Fellowship Fund every year," Dr. Lundberg said. When asked why she chooses to give, she responded, "As director of the Emory Women's Heart Center, I dedicate my time, energy, and passion to the fight against heart disease–particularly among local women. However, I truly feel that it's crucial to financially support our program with donations, as well. That money goes to support our '10,000 Women' project."
Through the "10,000 Women" project, Emory University has pledged to provide free cardiovascular risk screenings, education, and resources for follow-up care to at least 10,000 at-risk women in Atlanta. While heart disease is the number one cause of death in women, Dr. Lundberg said that it is "absolutely unacceptable" to her that African-American women experience "even more deaths and younger deaths" from heart disease than white women, particularly because heart disease is preventable with early screening, counseling, and lifestyle changes. "For every $10 I give, another African-American woman can have her cholesterol checked and have a cardiovascular risk assessment," she said.
Dr. Lundberg also contributes to the Emory Cardiology Fellowship Fund, which supports current Cardiology trainees. "My gift to the Cardiology Fellowship Fund helps send cardiologists-in-training to regional and international meetings to improve their knowledge and share their research and ideas," she said. "Our fellows are our future! And that's why I give every year."
Today is Emory's first annual 24-hour "Day of Giving," which offers easy and fun ways to support what inspires you. We challenge you to give today to help others live longer, healthy lives. If you are interested in investing in research, clinical care, and/or education at Emory, please visit the "Day of Giving" website to learn how you can help. Whether you've made gifts in the past or are ready to start giving back for the first time, this is the day to make history for Emory's future. Are you ALL IN?
Related Links