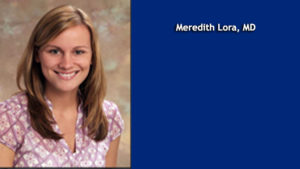 The Emory University Department of Medicine is delighted to announce that Dr. Meredith Lora has been named associate director of the Internal Medicine Core Clerkship, joining Clerkship Director Dr. John Pittman.
Dr. Lora earned her MD at Emory University and completed her internal medicine residency and chief residency at University of California – San Francisco in 2015. She subsequently completed a one-year fellowship in HIV medicine at the University of Southern California, where she worked as an HIV provider in the Los Angeles County Jail. She joined Emory's faculty in 2016 as an assistant professor in the Division of General Medicine and Geriatrics, based at Grady. Her clinical interests include the primary care-based treatment of HIV and Hepatitis C in high-risk, under-served populations, as well as Latin-American health, with a focus on social determinants of health and barriers to access to care. She has a strong interest in medical education and wants to cultivate a learner-centered approach, inculcating the science of clinical reasoning. Drs. Lora and Pittman invite all who are interested in participating in medical-student education to contact them for opportunities to join in this exciting, critical mission.
If you are interested in investing in research, clinical care, and/or education within the Emory University School of Medicine's Division of General Medicine and Geriatrics, learn how you can help.
Related Links