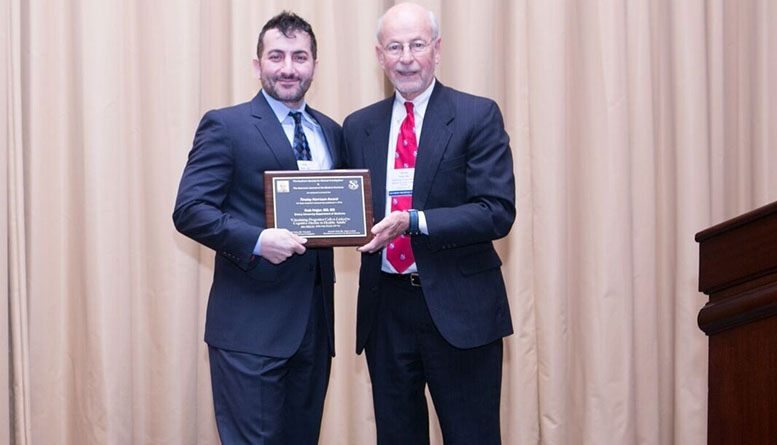 Ihab Hajjar, MD (Division of General Medicine and Geriatrics) has been awarded the prestigious 2017 Tinsley Harrison Award. Each year, the Tinsley Harrison Award is presented to the author of the best article published in The American Journal of the Medical Sciences in the preceding year. Dr. Hajjar was recognized for his article "Circulating Progenitor Cells is Linked to Cognitive Decline in Healthy Adults," published in the February 2016 issue of The American Journal of the Medical Sciences. His research focuses on studying the role of vascular factors in aging–particularly the aging brain.
Dr. Hajjar is an associate professor of medicine in the Emory Division of General Medicine and Geriatrics, with a secondary appointment as an associate professor of neurology in the Emory University School of Medicine. He is the medical director of Integrated Memory Coordinated Care as well as a physician at the Memory Disorder Clinic. He received his MD from the American University of Beirut in 1994. Following completion of medical school and a medical internship at American University Hospital, Dr. Hajjar completed his internship and residency training at the Cleveland Clinic (1995-98) and a two-year fellowship in geriatric medicine at the Medical College of Wisconsin (1998-2000).
In 2000, he joined the faculty of the University of South Carolina,  where he remained for five years. He spent two years as an instructor of medicine (2006-08) and two years as an assistant professor of medicine at Harvard Medical School (2008-2010). He spent an additional two years at the University of Southern California (2011-2013). He joined Emory Univeristy School of Medicine faculty in 2013.
Dr. Hajjar will be presented the Tinsley Harrison Award at the annual meeting of the Southern Society for Clinical Investigation in New Orleans in February. The American Journal of The Medical Sciences, founded in 1820, is one of the oldest medical journals in the United States.
*If you are interested in investing in research, clinical care, and/or education within the Emory University School of Medicine, please visit our website to learn how you can help.
Related Links