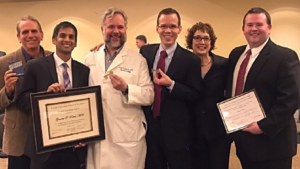 In order to recognize faculty accomplishments and excellence in patient care, research, and education, the week of November 28-December 2 was declared Emory University School of Medicine's "2016 Faculty Recognitions Week."
So many of your efforts—taking extra time with a patient, applying for grants, working with students and mentees, serving on committees, volunteering your skills—receive little formal recognition. But their impact, collectively, is incalculable.
These faculty members, and many others, were recognized last night at the Emory Medicine Faculty Appreciation Gala in Emory's Cox Hall. It was a warm, collegiate event that underscored the outstanding work our faculty does in all areas of our tripartite mission of education, research, and clinical care. Click here to view pictures of the event.
Please join us in congratulating your colleagues, your teams, and yourselves on an extraordinary year! To view the full list of Department of Medicine honorees, click here.
These faculty members have been nominated by their departments in recognition of their outstanding, but often unnoticed or unrecognized, contributions to Emory and beyond.
This award recognizes faculty who have demonstrated outstanding mentoring in the domains of education, service, and/or research to trainees or early career faculty during the past year. Two winners were selected by the Emory University School of Medicine Recognitions Committee and approved by the dean for this inaugural award.
We pride ourselves on providing an outstanding patient experience at all of our clinical sites. These faculty members were recognized for their high patient satisfaction scores on Press Ganey satisfaction surveys.
As a top research institute, groundbreaking research happens daily across the Emory University School of Medicine. Join us in congratulating the faculty members who have been recognized as leaders in academic journal citations and through funded grant applications.
Recipients are nominated by colleagues and students and chosen by the Teaching Awards Committee for their dedication to medical student teaching and their many contributions as course directors and mentors.
As part of the School of Medicine's Faculty Recognitions Week, we would like to congratulate these faculty members on their regional, national, and international honors and awards. This is just a sampling of the honors and awards that our faculty members have received over the past year.