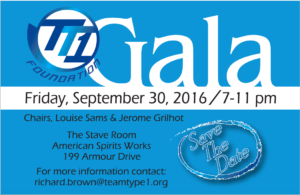 Emory Division of Endocrinology, Metabolism and Lipids faculty member and Team Type 1 (TT1) Foundation board member Darin Olson, MD, PhD, MS cordially invites all Department of Medicine faculty to attend the Team Type 1 Foundation's third annual Gala. The event will feature dinner, a whiskey tasting, music, and silent and live auctions. Proceeds from the Gala will go toward raising awareness of TT1's programs, which work to provide equal access to medicine and medical education to people with diabetes in the developing world.
The highlight of the evening will be the introduction of the 2016-2017 Team Type 1 Global Ambassadors: inspiring collegiate athletes who are all living successfully with type 1 diabetes.
Details
Date: Friday, September 30, 2016
Time: 7-11 p.m.
Location: The Stave Room, American Spirit Works, 199 Armour Drive, Atlanta, GA
Attire: Coat, No tie
Cost: $150/individual and $250/couple
RSVP today!
Contact: Richard Brown at richard.brown@teamtype1.org or (404) 824-9522

This event is chaired by the husband-and-wife team of Jerome Grilhot and Louise Sams.
Related Links