G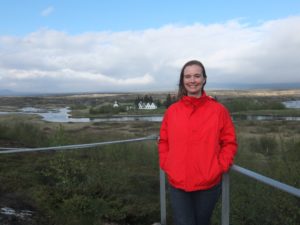 retchen Snoeyenbos Newman, MD is a third-year resident in Emory's J. Willis Hurst Internal Medicine Residency Program. Gretchen is originally from a small town in southeastern Massachusetts. In fact, the town is so small, it didn't get its second stoplight until she was in high school.
Gretchen has a bachelor's degree from Mount Holyoke and and MD from Emory University School of Medicine. "I'm very lucky to have had the support and guidance of several mentors in my time at Emory," Gretchen said. "Dr. Molly Eaton was my small group leader in medical school, and assisting at her Midtown clinic as a resident played a major role in my decision to pursue the field of infectious diseases." Similarly, Gretchen says that Drs. Kim Manning, Wendy Armstrong, Stacey Higgins, and Carlos del Rio have been incredible personal and professional mentors–helping her to narrow her interests and to grow as a clinician and teacher.
Gretchen considers the opportunity to train at Grady Memorial Hospital to be one of the greatest privileges of being an Emory resident. "My Grady patients have taught me an enormous amount about the interactions between structural and systemic disadvantages and health," she said. "Part of my interest in practicing HIV medicine is that with HIV/AIDS–particularly in the South–we have the ability to confront these problems with a sense of urgency that is difficult to find for other chronic illnesses like hypertension and diabetes."
Gretchen and her wife, Kira, an MD/PhD currently completing her fourth year at Emory, were married during Gretchen's intern year. We are thrilled that Kira will also be joining the internal medicine ranks next year. In their spare time, Gretchen and Kira enjoy Country & Western social dancing.
Related Links
More about Emory University Department of Medicine's residency program
Emory's J. Willis Hurst Internal Medicine Residency Program offers several residency training pathways, including: