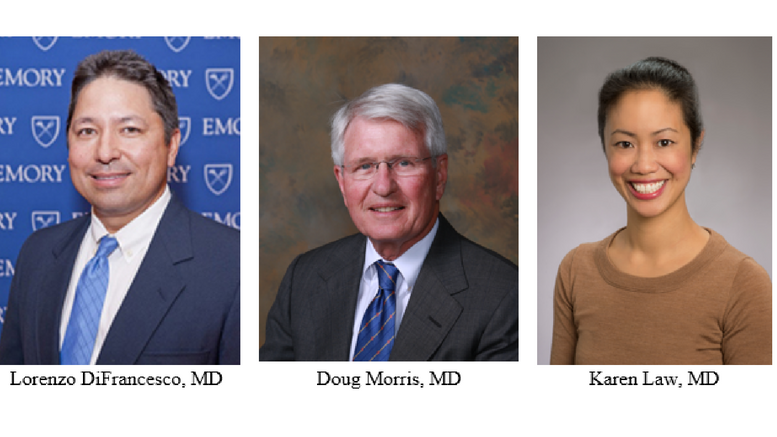 The Department of Medicine's Office of Education is excited to announce a restructuring of our education leadership, effective September 1. We are naming three Associate Vice Chairs of Education, Drs. Lorenzo DiFrancesco, Doug Morris, and Karen Law, each with unique areas of emphasis and responsibilities to develop innovative education programs, including faculty development. In addition, Dr. Law will assume the responsibilities of Program Director of the J. Willis Hurst Internal Medicine Residency Program.
Dr. Lorenzo DiFrancesco (Professor of Medicine, General Medicine and Geriatrics) is a widely recognized master educator and clinician. As Associate Vice Chair, he will develop and direct the Point-of-Care diagnostics curriculum for students, residents, fellows, and faculty. In addition, he will spearhead programs that emphasize and expand bedside teaching and medical decision-making at Grady Memorial Hospital and lead the new Distinctions Program in Medical Innovation for our residents, which he developed. Dr. DiFrancesco will also have an expanded role as Associate Chief of Medicine at Grady, where he will focus on improving the quality and delivery of care on the medical services at Grady Health System. Dr. DiFrancesco has served for the past six years as Program Director of the residency program, and we look forward to his continuing contributions to education in the department.
Dr. Doug Morris (Professor of Medicine, Cardiology and former Executive Associate Dean for Clinical Affairs, The Emory Clinic) is also a recognized master clinician, with 42 years of experience teaching our students, residents, and fellows. As Associate Vice Chair, Dr. Morris will focus on innovative educational programs that promote patient-centered, cost-conscious care and clinical reasoning skills at Emory University Hospital and The Emory Clinic. In addition, he will chair the Department of Medicine's Grand Rounds Committee and seek to enhance the educational value of this conference.
Dr. Karen Law (Assistant Professor of Medicine, Rheumatology) has established herself as a leader in medical education at Emory, having held multiple roles at the medical school, including Small Group Advisor and Associate Director of the third-year Medicine Clerkship. She has won Emory's Dean's Teaching Award and the American College of Rheumatology's Clinician Scholar Educator Award. In her role as Associate Vice Chair, she will focus on developing curricula that span the faculty-fellow-resident-student continuum and enhance learner development in medical education. In addition, Dr. Law will also assume the role of Program Director of the J. Willis Hurst Internal Medicine Residency Program, the largest training program in the School of Medicine. Learn more about Dr. Law
We are thrilled that this talented group of individuals has agreed to assume these important leadership roles to help enhance the quality and prominence of our educational programs.
Related Links
More about Emory University Department of Medicine's residency program        
Emory's J. Willis Hurst Internal Medicine Residency offers several residency training pathways, including: