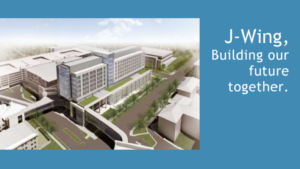 Emory's Clifton campus is preparing for the arrival of a new hospital tower (Emory University Hospital's J-Wing) that will provide additional beds and clinical space. The project coincides with Clifton Streetscape, a project to improve access, safety, and visual appeal along Clifton Road that will run through late spring/summer of 2017. While the J-Wing is being constructed, temporary walls, bridges, and a ramp will be constructed to divert you around the elevator and stairwell construction in the lobby. These temporary structures will remain up until J-Wing construction is completed in spring of 2017.
The new facility will include:
Level 9 – Bone Marrow Transplant
Level 8 – Hematology and Medical Oncology
Level 7 – Surgical Specialties, including Oncology, Urology, Gynecology and Gynecologic Oncology
Level 6 – Solid Organ Transplant (kidney, liver and pancreas)
Level 5 (south) – Critical Care
Level 5 (north) – Unassigned
Level 4 – Under development
Level 3 – Under development
Level 2 – Food services and retail
Level 1 – Anesthesia Pre-op Clinic and Imaging
Underground parking
For additional information, please visit www.emoryhealthcare.org/expansion or email patient.relations@emoryhealthcare.org.
Related Links