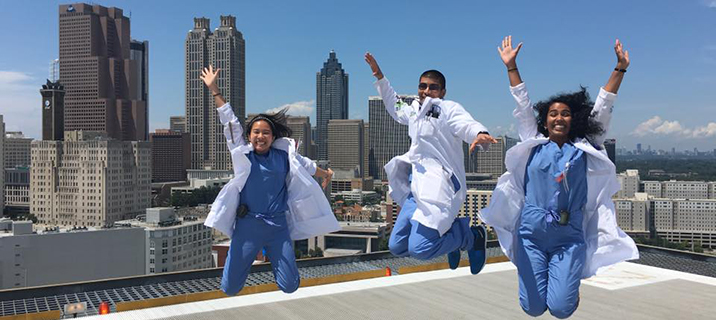 The #EmoryIMResidents have started the academic year off with a bang! We want to thank the following residents for going above and beyond this summer:
Charles Terry was lauded by the chief anesthesiologist for his help in the care of an unstable orthopedics PACU patient after surgery.
Brett Van Leer Greenberg and his team took additional ICU transfers on call days to save admission slots from other teams and protect emergency measures.
Tram Jomes and Brett Van Leer Greenberg both took overnight hospital transfers on post-call days for continuity of care.
Marc Allard and Rob Heinl admitted transfers on cross-cover nights.
Caitlin Anderson collected times and number of pages during the pager crisis, including which pages were answered and what was said, and forwarded them to the chiefs to help IT.
Sara Levy stayed late to write an H&P for an overnight resident.
Giselle Dutcher fielded 16 admission calls on night float jeopardy and stayed until the wee hours of the morning writing 10 H&Ps to help the night float team.
Marsha Stern got shout-outs from the 71 ICU attendings for being a team player, staying late on short-call days to help the long-call resident admit, and providing excellent patient care.
Jeong-Hwan stayed late at the Atlanta VA Medical Center to help cover for a delayed night-float colleague.
Jonny Salud graciously swapped calls with minimal notice to help resolve call scheduling issues.
Kayla Wolofsky booked an extra patient in her MD-only slot to help prevent an admission and cared for a sick patient she was not responsible for until the covering team was found.
John Ricketts got a shout-out from a Morehouse attending for taking a transfer from another medicine team and dealing with a complex family situation for more than a week.
Song Kim called her patient with a retropharyngeal infection multiple times over a weekend to ensure the patient received antibiotics.
An Emory attending praised Ben Smith for his hard work and dedication to patients.
Tony Hunter graciously helped out an ill colleague and covered VA wards for multiple jeopardy days to ensure continuity of care.
Mike Evans rescheduled his day off to help provide care when another resident was out sick.
Trammell Jones, Emi Poppens, and Sara Koumtouzoua were recognized for their hard work and dedication to patient care by attendings on their respective rotations.
We are sure that there are many more #RealResidentHeroes that we don't know about. If you have a story to share, please contact one of the chief residents.
Related Links
More about Emory University Department of Medicine's residency program        
Emory's J. Willis Hurst Internal Medicine Residency Program, led by program director Lorenzo Di Francesco, MD, FACP, offers several residency training pathways, including: