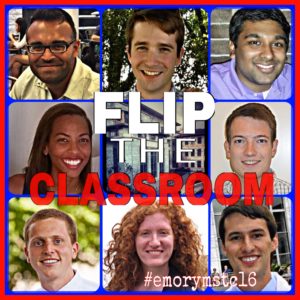 Students of the Emory University School of Medicine and the Department of Medicine's Academy of Medical Educators proudly present the third annual Emory Medical Student Teaching Competition. Our medical students are tech-savvy, innovative, gifted speakers. Get ready to be inspired, impressed, and to learn something!
Details:
Date: Monday, August 1, 2016
Time: 6 p.m.
Location: School of Medicine, Room 110
Pizza and other refreshments will be served
Medical students and coaches:
Jared Bayersdorf (M2) – "Venomous Snake Bites"
Coached by: Todd Taylor, MD (Department of Emergency Medicine)
Max Medert (M4) – "Relevant Afferant Pupillary Defect"
Coached by April Maa, MD (Department of Ophthalmology)
Emma Cooke (M2) – "Discretions of ADH Secretion"
Coached by: Lisa Bernstein, MD (Department of Medicine)
Dave Matthews (G3 MD/PhD) – "T-Cell Immunology"
Coached by: Andrew Adams, MD, PhD (Department of Surgery [Transplant])
Ben Boone (M4) – "Fundamental Principles of Heart Murmurs"
Coached by: Maan Jokhadar, MD (Department of Medicine)
Kristina Chambers (M2) – "The Pathophysiology of Long QT Syndrome"
Coached by: Kimberly Manning, MD (Department of Medicine)
Aruun Kumar (M3) – "Mechanical Ventilation"
Coached by: Lucas Golub, MD (Department of Medicine)
Will Lindquester (M4) – "Laboratory Diagnosis of Hyponatremia"
Coached by: Iris Wang, MD (Department of Medicine)
Please come and show your support for our talented student-teachers.
Related Links