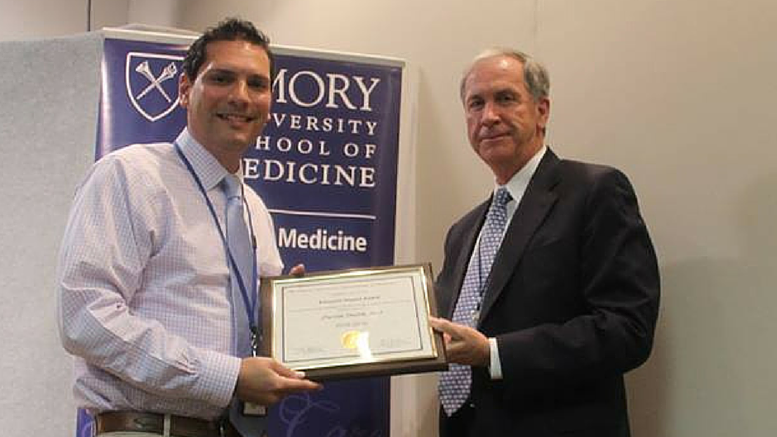 Dustin Smith, MD (Division of Hospital Medicine) was awarded the Emory University Department of Medicine's 2016 Educator Impact Award at Celebratory Grand Rounds.
The Educator Impact Award recognizes a Department of Medicine faculty member who has made outstanding contributions as a medical educator, as recognized by peers.
Comments from Dr. Smith's nominator(s):
"Dr. Smith is an outstanding educator for our students, residents, and faculty and has developed a national reputation as an educator and organizer."
"He is an effective and engaging clinical teacher and fulfills a number of important education leadership roles…"
"He has been recognized for his teaching excellence through an impressive number of awards. These include awards at both the divisional and departmental levels."
"He is an active committee member for the Society of Hospital Medicine's annual national meeting planning committee, which he was asked to chair in 2019. This committee sets the educational agenda for the largest meeting of hospitalists in the world, and participation in the committee is highly competitive. That he has been invited to serve on this committee for the past four years speaks to his emerging national reputation as a medical educator."
Related Links
*If you are interested in investing in research, clinical care, and/or education within the Emory University Department of Medicine, please visit our website to learn how you can help.