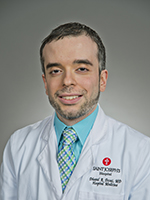 Dhaval Desai, MD (Assistant Professor, Hospital Medicine) was awarded the Emory University Department of Medicine's Outstanding Clinician Award at the 2016 Celebratory Grand Rounds ceremony in June.

Comments from Dr. Desai's nominator(s):
"Emory Saint Joseph's Hospital was in a full crisis with its hospital medicine program… Despite it all, Dr. Desai endured without complaining, making nurses smile and patients feel like family."
"…[P]atient satisfaction began to significantly rise for the first time in years, while the length of stay decreased. And, just as important, camaraderie developed between our physicians and staff."
"He has a unique gift of communication with his patients. His approach is consistently compassionate, informative, and engaging. His patients are always aware of their plan of care and are not left wondering what comes next."
Selection Process
Eligibility requirements: Physician in Department of Medicine who spends more than 50 percent of time engaged in direct patient care
Must be nominated by a Department of Medicine faculty member
Must be supported by a non-physician clinical staff member
Decisions: independent committee of Emory faculty and staff outside of Department of Medicine
Outstanding quality of patient care
Commitment to team-oriented delivery of patient care
Excellent rapport with non-physician clinical staff
Participation in quality improvement project(s)
Accessibility and commitment to collaboration with other physicians
Dedication to the continuing education of physician colleagues through lecture and informal discussion of medical cases
Related Links
*If you are interested in investing in research, clinical care, and/or education within the Emory University Department of Medicine, please visit our website to learn how you can help.