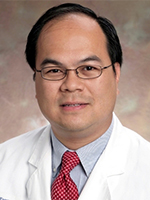 Congratulations to Vin Tangpricha, MD, PhD, associate professor of medicine and director of the Endocrinology, Metabolism and Lipids Fellowship Program at Emory University School of Medicine.  Tangpricha is being honored by the American Association of Clinical Endocrinologists (AACE) with the Outstanding Service Award for the Promotion of Endocrine Health of an Underserved Population.
The Outstanding Service Award is presented to an individual for outstanding contributions to the endocrine care, health and service to an underserved population in the United States or abroad via leadership, long-term commitment, vision, innovation and impact. Read more
About Dr. Tangpricha
Dr. Tangpricha is an associate professor of medicine in the Emory University School of Medicine.  His current research projects include studies to evaluate methods to improve vitamin D status in CF patients, use of vitamin D in cardiovascular disease, evaluation of T-lymphocytes in post-menopausal osteoporosis and investigation in the mechanism of calcium absorption mediated by vitamin D.
Related Links
*If you are interested in investing in research, clinical care, and/or education within the Emory University School of Medicine's Division of Endocrinology, Metabolism and Lipids, please visit our website to learn how you can help.