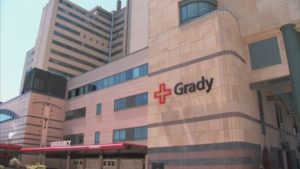 **The following message is sent on behalf of Steven R. Doney (Clinical Administrator – Grady Operations and Education)**
With the purpose of providing superior service and management of our Grady Operations, we have restructured our administrative management team by consolidating fractional FTEs within our Grady budgets to create three clinical business manager positions for highly qualified and dedicated administrative leaders with the skill sets requisite to maximize and elevate our operations to deliver on the key business metrics and goals of both Grady administration and the Emory University School of Medicine. I'm pleased to announce that we have successfully filled these positions.
All will report directly to Steve Doney, clinical administrator for Grady Operations, and have supporting relationships with the division leadership to which they are assigned.
We are pleased to announce the appointments of Aly El-Sayed, Bjay Wylde, and Danny Lulla as clinical business managers with the Department of Medicine's administrative team at Grady.
Aly El-Sayed
Graduate of Jacksonville State University (2011 – BS, Business Management)
Practice Administrator – Kazi Ophthalmology, Anniston, AL since 2012
Bjay Gordon Wylde
Graduate of George Washington University (2013 – Master of Health Services Administration)
Purdue University (2010 – BA, Liberal Arts)
Consultant – Kurt Salmon, McBee Associates, INC, Divurgent – 2013-2016
Remote Practice Manager – Jeffersonville Psychiatric Associates, 2008-2013
Danish "Danny" Lulla
Graduate of Creighton University (2008 – MBA Finance)
Creighton University (2006 – BS Business Administration – Accounting)
Senior Operations Manager – Pacific Dental Services (since 2015)
Senior Operations Manager & Investor – Back Pain Institute of Fort Myers, 2012-2015
Senior Strategy Analyst – Prairie Ventures, 2010-2012
Audit Advisory/Valuation Associate – Dave K & Associates CPAs
Each will be assigned administrative and management support of one or more Medicine divisions' operations based on the Grady campus and work integrally with the service chiefs, division administrators and division directors in the management of their physician practice. They will be the division interface with EMCF management and staff, and responsible for management report generation and distribution, data review, interpretation and analysis, billing process and revenue cycle improvement, billing and regulatory compliance. They will be instrumental in Grady budget generation and projections and will work closely with the division administrator and service chief regarding these budgets.
Please join us in welcoming them to the Department of Medicine.