Did You Know?
The Internal Visiting Professorship Program offers Department of Medicine faculty the opportunity to spend a day in another division, exchanging ideas and building both collaboration and collegiality. Visiting Department of Medicine faculty members meet investigators and present a research seminar at a conference in their host divisions. Department of Medicine division directors are encouraged to invite two to four internal visiting professors each year. Faculty members interested in participating in this program can also select a host division and contact the conference organizer directly. Learn more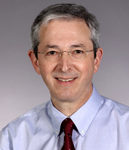 "The program gave me an opportunity to share research interests with my renal colleagues and to enhance collaboration, discuss faculty development, and consider novel approaches to clinical care."
— Mark Nanes, MD, PhD, IVPP participant
Related Links
If you are interested in supporting research, education, and/or clinical care within the Emory University Department of Medicine, learn how you can help.