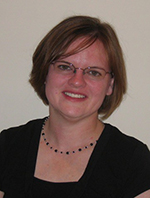 Meet Division of Hospital Medicine clinician-educator Kari Esbensen, MD. Esbensen is the mother of two daughters, an internist, a bioethicist, and a hospice and palliative medicine physician. She completed her MD, PhD (philosophy and bioethics), and residency training in internal medicine at Georgetown before completing a fellowship in palliative medicine at Washington Hospital Center.
Esbensen came to Emory for the opportunity to pursue her passions of providing care to seriously ill patients and their families and teaching trainees at all levels the art of medicine. She also came to Emory to become involved in Emory's Center for Ethics.
Esbensen is currently the palliative medicine clerkship director and co-teaches several sessions in ethics to medical students. She recently designed and implemented a new curriculum for teaching communication skills at the bedside for students who rotate at Emory University Hospital during their third-year medicine clerkship.
Esbensen pursued a career in medicine because she views it as one of the highest forms of service one can give to persons who are vulnerable and in need of compassion and healing.
Esbensen loves watching her mentees become totally engrossed in an ethical conundrum and then helping them to sort out the various elements at play. She enjoys encouraging learners to become fully engaged with a patient or patient's family in a way that not only shapes their experience, but also invites the learner to reflect on their own personhood, vulnerability, and the gifts they bring to the table to comfort those in need of healing. She loves teaching that healing is not the same as curing and that each of us can be part of one another's healing just through our presence, concern, time, and listening.
In her spare time, Esbensen enjoys spending time with her family, trying new restaurants, attending orchestra concerts (especially when her daughter is performing!), gardening, landscaping and home renovation projects, and collecting antiques.
Brought to you by the Emory University Department of Medicine's Education Community.

Related Links
If you are interested in investing in research, clinical care, and/or education within the Emory University Department of Medicine, please visit our website to learn how you can help.