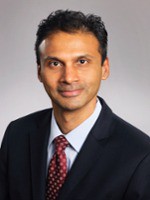 Ram Subramanian, MD (Division of Digestive Diseases) immigrated to the United States from New Delhi as a teenager and completed his undergraduate education, medical education, and residency training at the University of Chicago. He completed a hepatology fellowship at the University of Nebraska before returning to the University of Chicago for postgraduate training leading in gastroenterology, pulmonology, and intensive care.
Dr. Subramanian became interested in intensive care as a medical student and developed an interest in hepatology as his medical education continued. He particularly enjoyed aspects of studying and treating multi-organ failure in the context of portal hypertension. Ultimately, he decided to pursue a career that combined both.
Dr. Subramanian was responsible for bringing Molecular Adsorbents Recirculating System (MARS) and Extracorporeal Liver Assist Device (ELAD) technology to Emory's 5E ICU after noticing that there were only a few treatment options for patients with end-stage chronic or acute liver disease other than liver transplantation. MARS and ELAD offer some hope for these patients.
Dr. Subramanian gives a lot of the credit for his abilty to multi-task in order to be an accomplished clinical provider, award-winning teacher, and clinical investigator to his wife. He also looks for synergy in his activities and responsibilities and combines projects and goals whenever possible. When he is in the ICU caring for patients, Dr. Subramanian frequently completes his clinical protocols concomitantly. Finally, as many Emory team members are learning more about the care the team is delivering–especially the nursing and APP staff in the ICU–the goals of the team are more likely to be met in his absence.
Brought to you by the Emory University Department of Medicine's Education Community.

Related Links
If you are interested in investing in research, clinical care, and/or education within the Emory University Department of Medicine, please visit our website to learn how you can help.