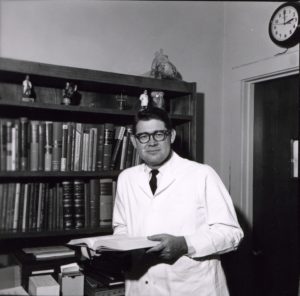 J. Willis Hurst, MD was an outstanding clinician, educator, and writer. He was appointed professor of medicine and chair of the Department of Medicine in 1957, at the age of 56. He remained chair of the Department of Medicine until 1986.
Some of his accomplishments include:
Establishing Emory's continuing medical education program in cardiology, which secured the school's reputation in teaching and attracted cardiologists from around the world to learn procedures pioneered and perfected at Emory.
Playing an integral role in establishing The Emory Clinic.
Teaching more than 5,000 medical students and 2,500 residents and fellows – roughly 20 percent of all doctors currently practicing in Georgia.
Receiving the highest teaching awards from the American College of Cardiologists and the American College of Physicians.
Receiving Emory's prestigious Crystal Apple Teaching Award.
In 2003, Emory's internal medicine residency training program was named in Dr. Hurst's honor. Emory Department of Medicine leadership David Stephens, MD; Wayne Alexander, MD, PhD; Nanette Wenger, MD; and Kenneth Walker, MD discuss Dr. Hurst's legacy in this short video.
Related Links