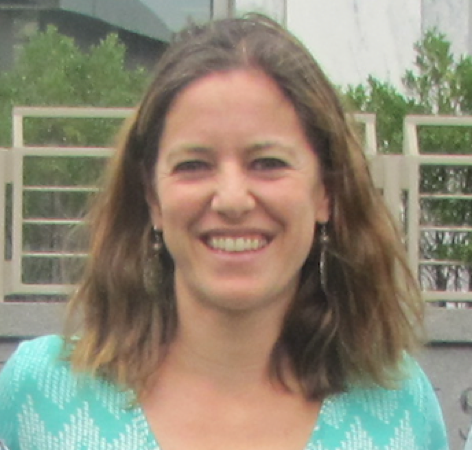 Sara Auld, MD is a third-year fellow in the Division of Pulmonary, Allergy, Critical Care and Sleep Medicine. After receiving a bachelor's degree in history from Stanford University, Dr. Auld attended Columbia University College of Physicians and Surgeons and completed her residency at Massachusetts General Hospital. Before coming to Emory in 2012, she worked at the Centers for Disease Control & Prevention.
In medical school, she received a year-long fellowship from the Doris Duke Charitable Foundation to receive hands-on clinical research training at the Center for AIDS Program of Research in South Africa (CAPRISA) in Durban, South Africa. Since then, she has also led an outbreak investigation of a TB outbreak in a group home in Puerto Rico; worked with the Cambodian National TB Program to develop algorithms for TB-screening among persons living with HIV/AIDS and multidrug-resistant TB; and designed, developed, and carried out an analysis of U.S. National TB Surveillance System data to examine the association between tuberculin skin test (TST) results and clinical characteristics of TB among persons with culture-confirmed TB disease.
Recently, Dr. Auld and her colleagues completed a study to characterize the nature (e.g., location, timing) of the transmission of extensively drug-resistant tuberculosis (XDR TB) in the KwaZulu-Natal province of South Africa, where the majority of XDR TB cases in the world occur. According to Dr. Auld, since the emergence of XDR TB more than a decade ago, five-year survival rates have remained "dismally low"—around 25 percent. Because of this, Dr. Auld believes that the prevention of XDR TB is absolutely paramount to reducing TB-related morbidity and mortality. The researchers were able to find social network links for 30 percent of the study population, and showed that 70 percent of XDR TB cases could be related to direct transmission of resistant strains. In February, Dr. Auld reported their findings at the Conference on Retroviruses and Opportunistic Infections (CROI) in Boston. View the CROI presentation
"I really appreciate the opportunity Emory has given me to collaborate with colleagues across different divisions," she said. "I think it fosters a sense of community and allows us to view our research from different perspectives." Find out more about Dr. Auld's research
In her free time, Dr. Auld enjoys traveling and spending time with her two-year-old son.
Related Links
If you are interested in investing in research, clinical care, and education within the Emory University School of Medicine's Division of Pulmonary, Allergy, Critical Care and Sleep Medicine, learn how you can help.