Atlanta VA Medical Center
Scott Steinbach, MD
At the Atlanta VAMC, inpatient quality improvement (QI) really came into existence with the birth of the VA Hospital Medicine (VA HM) Section back in 2008. Before that time inpatient medical care was entirely managed by four Internal Medicine Resident teams who rotated in and out monthly and thus there existed not the time nor the cultural connections to advocate for nor to actualize improvements. Today, a very different VAMC has 15 full time faculty (13 in the Hospital Medicine Section, 1 in the Education Section, and 1 in the Quality Section) with the interest and influence to implement quality improvements targeted towards inpatient care. Whether it is official Lean Six Sigma Quality Improvement Projects or unofficial undocumented day to day changes, everyone gets involved. The key to any improvement is QI skills, leadership support, committee management skills, collaborativeness, and sheer determination…and that's just for the planning and implementation, to say nothing of the lastingness of the quality improvement–that most difficult part of actualizing a permanence of an improvement.
To that end, two members of VA HM have had formal QI training with completIon of Emory's Quality Improvement Academy: Jen Larson, MD and myself with additional national VA Lean Six Sigma training and certification by myself. One of the major completed quality improvement projects that I am particularly proud of is a complete overhaul of discharge instructions several years back to a more comprehensive patient-centric document that captured all the critical elements necessary to transition a patient back to outpatient care. This is just one example of a successfully implemented project and many more continue to be considered, planned, or implemented. One of the current QI projects is led by Joyce Akwe, MD MPH to improve upon the new comprehensive stroke measures established by the Joint Commission. It, as usual, is made up of a multi-disciplinary team of stakeholders, an IT programmer, leaders, and QI experts. The project is only at its beginning, but plans are for significant improvements in documentation and measures…if not morbidity and or mortality outcomes which are always harder to capture statistically.
Hospital Medicine has always been proud of its history of involvement in Healthcare Quality Improvement, and the Atlanta VA Hospital Medicine Section will continue to do its part.
Emory Johns Creek Hospital
Emory Johns Creek Hospital ( EJCH) is one of the integral hospitals in Emory healthcare network and have a strong hospitalist program since its establishment and opening about 8 years ago making it the newest hospital in the network with ever growing services and great opportunities to our hospital medicine program.
The hospitalist group care for over 75 % of the patients admitted and supports other disciplines thru consultation assisting with the care of patient admitted by surgery, Ob&Gyn in addition to IR and neurosurgery.
Our team includes some very experienced hospitalists who have been with Emory for over 15 years like our ICU director Dr. Chaiyachati who is leading our closed Intensive Care Unit at our hospital and working on starting a palliative care consultation program.
The Hospitalist team at EJCH is unique in its structure and leadership. In addition to the director of hospital medicine position, there are directors for Accountable care units (ACU) on medical and recently on the surgical floors in addition to the directorship of the ICU. With all this hard work, our hospital has become a full ACU program affecting the care to all patient cared by the hospitalist group. In addition to that, we have good representation in our hospital senior leadership structure with hospitalists like Dr. Odetoyinbo serving as Chief medical officer (CMO) and Dr. Shabbir serving as Chief Quality Officer (CQO).
Besides the engagement with senior leadership, many of our hospitalists are chairs and members of different committees improving the quality of care given to our patients. As an example to the exemplary service to our patient, our hospitalists continue to be recognized internally and division wide as a witness to our team commitment to excellence.
Recently, we have lost some of our physician who moved to different patient care discipline including hospice and primary care. Despite the loss of some of the great talents, we are glad that we hired an outstanding team of physicians to replace those who left and increased the size of our hospitalist team to 13 clinical FTEs and hired 4 Advance Practice Providers (APPS).
Finally, the EJCH hospitalist team play important role in the education of APPs where PA and NP students from Emory and Mercer University rotate routinely with our clinical group and get exposed to the discipline of care in the inpatient field.
Emory Saint Joseph's Hospital
Over the past 12 months, the Hospital Medicine Program at Emory Saint Joseph's Hospital has had a lot of positive momentum. The launch of SIBR (Structured Inter-disciplinary Bedside Rounds) / ACU in two of the acute care units at the hospital were key initiatives to improve multi-disciplinary collaboration, patient satisfaction, and also focus on other key metrics among the hospital such as length of stay and compliance with core measures. Both units, 4-East (Neuro / Vascular) and 6-East (Internal Medicine), have had very positive outcomes in a short amount of time, with Physician Champions from Hospital Medicine. As a result of this success, two additional units will be launched in February of 2016, and outcomes will be measured and monitored closely.
From an academic standpoint, the educational initiatives continue to grow at Emory Saint Joseph's. More specific to Hospital Medicine, Physician Assistant Students and Acute Care Nurse Practitioner Students from Emory's programs continue to rotate with Hospital Medicine Physicians for a rotation and experience with Internal Medicine / Hospital Medicine. In February of 2016, there will be an elective that will be started for upper level Internal Medicine Residents. While there will be a focus on direct patient care outside of the classic "structured teaching ward teams," there will also be educational initiatives on getting exposure to the non-clinical side of medicine, including coding/billing, hospital metrics, core measures, and utilization review. This is a new resident rotation, and will hopefully continue to grow with more participants in the upcoming year.
Overall, the Hospital Medicine Program at Emory Saint Joseph's is positioned for success, and will continue to have it's faculty well integrated into the Hospital among committees and initiatives, some of which have been outlined here.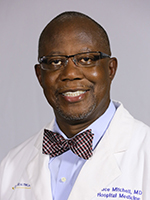 Emory University Hospital Midtown
We began the year on with our new schedule format. The schedule is unique to the Emory system. It is modeled after the CICLE (Creating Incentives and Continuity Leading to Efficiency) created at Johns Hopkins Bayview Hospital and published in Mayo Clinic Proceedings in 2012. The new format has seven rounding teams with three teams beginning on Monday, one team beginning on Tuesday and three teams beginning on Friday. The teams admit for four days and use the other three days for disposition of those patients remaining on their services. Needless to say, the first month was pretty stressful. There have been some slight adjustments in the model, but things are looking great going into our third month.
Presentations at the SHM National Meeting
Posters
Drs. Yoo Mee Shin, Yelena Burklin, Kyle James, Ketino Kobaidze – "The Curious Case of the Recurrent Rash"
Workshops
Dr, Ketino Kobaidze is conducting "Ultrasound Guided Procedures Workshop for Hospitalists" as a pre-course.
Research
Dr. Mitchell (PI), along with Drs. Willie Smith and Bryan Wells (Co-PIs), Dr. Julie Tasnova (Research Coordinator), Dr. Julie Kim (Resident Investigator),  and Dr. Rajendrakumar (HMS Investigator) will begin recruiting patients for the MARINER (Medical Ill Patient Assessment of Rivaroxaban Versus Placebo IN Reducing Post-Discharge Venous Thrombo-Embolism Risk) Trial in March 2016.
The MARINER TRIAL is a multicenter, prospective, randomized, double-blind, placebo-controlled, event-driven study designed to evaluate rivaroxaban, compared with placebo, in the prevention of symptomatic VTE (lower extremity DVT and non-fatal PE) events and VTE-related deaths for a period of 45 days post-hospital discharge in high risk patients. The study consists of a screening phase, a 45-day double-blind treatment phase, and a 30-day safety follow-up period. Pts must be hospitalized for the new onset or exacerbation of one of the following medical conditions:
Congestive heart failure (CHF)
Acute respiratory insufficiency or acute exacerbation of chronic obstructive pulmonary disease 
(COPD)
Acute ischemic stroke (including spinal cord infarction if no evidence of intramedullary, subdural or epidural hemorrhage)
Emory University Hospital/
Emory University Orthopaedics & Spine Hospital
We have four accountable care units: 6G, 5G, 6A, and the recently started 5D. Ananth Vadde, MD and Annie Massart, MD are co- medical directors for 6G; Rumman Langah, MD for 6A and Paul Durick, MD for 5G. We have significant representation at the upcoming SHM conference in San Diego. The following physicians are course faculty: Elbert Chun, MD; Julie Hollberg, MD; Dan Hunt, MD; Rumman Langah, MD; Sheri Chernetsky-Tejedor, MD; James Kim, MD; and Dan Dressler, MD. Elizabeth McKinney, MD was chosen for a poster presentation. Federico Palacio Bedoya has become a new member of the education council and joins Rumman Langah, MD and Susan Ortiz, PA. We had a strong showing at the Emory Division of Hospital Medicine Banquet. The Daisy Glover, PA Excellence in Patient and Family-Centered Care Award went to Ananth Vadde, MD. The Education Award went to Rumman Langah, MD. The clinical staff award went to Julie Schneider, ACNP. David Tong, MD was chosen for the Director's Award.
Wesley Woods Long-Term Acute Care Hospital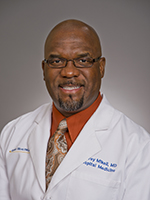 At Select Specialty Hospital-NE Atlanta (LTAC at Emory Wesley Woods Center), we have an 18-bed unit that provides comprehensive, specialized care for critically ill and medically complex patients who require extended hospitalization and cannot be transitioned to a lower level of care.  Over the past several months, we have welcomed a number of new Emory hospitalist moonlighters to the service, increasing our pool of MD providers and growing the visibility of the program.  We are in the process of hiring another MD to fill our currently vacant FTE.  On a bright note, I'm happy to introduce Nicole Hairston, NP to the EDHM family.  She joins us from the Sound Physicians group in Phoenix, Arizona.  Also, we are making strides in research.  Our study "Intestinal Microbiome Disruption in Patients in a Long Term Acute Care Hospital: A Case for Development of Microbiome Disruption Indices to Improve Infection Prevention" has recently made the press (American Journal of Infection Control).