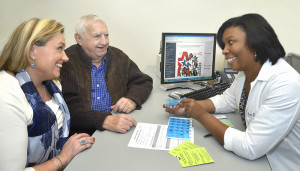 When we talk about quality improvement and population health, it's worth remembering that sometimes simple changes can bring big results. Case in point: when Dr. Anna Mirk and her team at the Atlanta VA Medical Center set out to make a difference in the lives of their elderly veteran patients, they looked at medication management and identified barriers to proper medication use that involved not only the patient, but also the network of caregivers surrounding the patient, including family members, caregivers, pharmacists, and primary care providers. The solution they found, through an innovative project called "IMPROVE" (Integrated Management and Polypharmacy Review of Vulnerable Elders), represents patient-centered, evidence-based medicine doing what it does best – high-value, integrated patient care that improves health outcomes and reduces health care costs. As one caregiver reflected, "This program has multiple benefits. It helped me with my anxiety, me, me, the caregiver. It helped him. It was good for him. It also saved money by eliminating unnecessary medications."
The IMPROVE pilot clinic chose the most vulnerable patients for their program: 28 veterans, aged 85-94, who were taking 10 or more medications. Adding to the potential for complications, more than half also had a dementia diagnosis. 19 caregivers were also involved in the program. Some key issues were quickly identified, including improper administration and dosing of medication, difficulties getting medication, problems related to poor vision and manual dexterity, and caregiver stress. Dr. Mirk and her team wanted a solution that was grounded in behavior change rather than something reliant on technology or clinical process change, so they came up with an idea that seemed simple – offering veterans and their caregivers a one-hour, face-to-face conference with a pharmacist that focused on education and problem-solving. A simple solution, but it brought great results.
Describing her conference, one patient said, "The pharmacist talked to me about the way my medication works and the reasons for changing the way I take the medication. I used to take all of my medications together at one time." All of the patients and caregivers found that knowledge really is power: 87 percent had at least one medication discontinued and 77 percent had one or more dosing or timing adjustments made. As an added bonus, potentially inappropriate medications were reduced by 14 percent. And the benefits extended beyond the patient – pharmacy costs and health care utilization rates were also reduced. Pharmacy costs alone were reduced by an average of $64 per veteran, per month.
Reflecting on the IMPROVE project, Dr. Mirk says, "When I listen to the taped interviews with the veterans and caregivers after their one-on-one sessions with the pharmacist, I can hear the new confidence in their voices. They feel empowered and engaged in their own health care. That's the ultimate goal for patient-aligned health care and a great measure of our success." After achieving such positive results, Dr. Mirk and her Emory and VA faculty colleagues are now rolling the project out to four rural VA Community-Based Outpatient Clinics, and they are developing a procedural manual and educational tool kit, so that other primary care providers can implement similar services in their clinics.
More about Dr. Mirk          
Anna Mirk, MD, an assistant professor in the Department of Medicine's Division of General Medicine and Geriatrics, came to Emory and the Atlanta VA after earning her MD at the University of Miami School of Medicine and her residency training in internal medicine at Madigan Army Medical Center in Tacoma, Washington. Dr. Mirk also completed a geriatrics fellowship at the Puget Sound VA and served on active duty as an internist and geriatrician in the U.S. Army. Learn more about Dr. Mirk.
Related Links