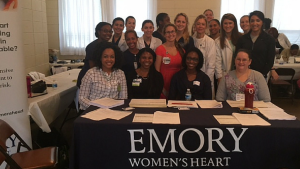 Are you interested in improving community health? Help us prevent heart disease by volunteering for one of Emory Women's Heart Center's free health screenings. Emory Women's Heart Center's "10,000 Women" project is a comprehensive program pledged to screen 10,000 local women for heart-disease risk factors. The data collected from these screenings is also used for invaluable research.
Volunteers help collect the following data:
Blood pressure
Cholesterol
Height/weight/waist circumference & BMI
Cardiovascular risk assessment (ASCVD Score)
Heart-health education and referral information
Data collection for 10,000 Women research project
For more information, please contact Molly Dunham-Friel at mdunha2@emory.edu.
Related Links
• Emory Women's Heart Center
• 10,000 Women Project
• Emory University Department of Medicine, Division of Cardiology
About the Emory Women's Heart Center
Emory Women's Heart Center is a unique program dedicated to the screening, diagnosis, treatment, and prevention of heart disease in women. The center, led by nationally renowned women's heart specialist Gina Lundberg, MD, provides comprehensive heart screenings to patients at risk for cardiovascular disease as well as a full range of treatment options for those already diagnosed with heart disease.