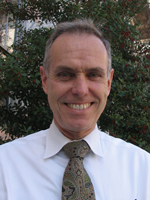 James Bailey, MD (Emory Division of Renal Medicine) was born in Pittsburgh. He graduated from St. Francis College and received his MD from Jefferson Medical College. Dr. Bailey completed his residency in internal medicine at Mercy Hospital in Pittsburgh and completed his nephrology fellowship at Emory, joining the faculty in 1991. In the mid-'90s, he received an award for teaching on the internal medicine service from the Atlanta VA Medical Center.
Dr. Bailey's research has centered on nutrition and muscle metabolism, and he has written extensively on these areas. Clinically, he has been involved in dialysis studies and written reviews in that area, as well. Since 2002, he has been director of the renal fellowship program and participated in the development of the nephrology in-service exam. More recently, he has served as director of the renal module for Emory University School of Medicine. He enjoys teaching medical students and house staff at all levels, particularly on a one-on-one basis. Outside of work, he enjoys running, swimming, traveling, and walking his dogs, Sunshine and Sweetie.
Brought to you by the Emory University Department of Medicine's Education Community.

Related Links
If you are interested in investing in research, clinical care, and/or education within the Emory University Department of Medicine, please visit our website to learn how you can help.