Until about five years ago, much of HIV/AIDS research focused solely on treatment. Now, patients have access to a combination of easily tolerated, convenient medications that promise to keep viral loads suppressed for decades.
In recent years, HIV/AIDS research has radically shifted its focus toward chronic conditions and diseases that often accompany long-term HIV.
Grady Health System's Ponce de Leon Center, one of the largest and busiest HIV centers in the country, provides care and support services to 5,000 men, women, and children living with HIV/AIDS. These patients are living well beyond what was once only dreamed of, but this has presented its own complications, including early onset of illnesses associated with aging.
"We see patients with heart disease, strokes, thinning of bones, hip fractures, and cancers at a younger age than they would otherwise expect," says HIV researcher Jeffrey Lennox, MD (Division of Infectious Diseases) professor of medicine at Emory and associate chair for Grady affairs.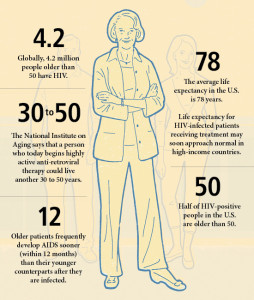 For patients with long-term HIV, doctors must tease out these multiple variables. "It's a very complex area, when a patient starts to notice problems," Lennox says. "Are these problems due to aging, HIV, medications, or something else?" Continue reading
Related Links
• Aging with HIV (Emory Medicine magazine)
• Aging with HIV: New frontier, new challenges (Emory News Center blog)
• Division of Infectious Diseases, Emory University Department of Medicine
• Read Dr. Lennox's faculty biography
• Emory University Department of Medicine
• Grady Memorial Hospital
• Emory University School of Medicine