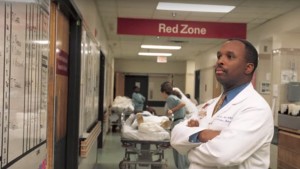 For 16 years, Leon L. Haley, Jr., MD, MHSA – an associate professor of emergency medicine at Emory University School of Medicine – served as chief of emergency medicine and deputy senior vice president of medical affairs at Grady Health System.
In 2013, Dr. Haley stepped outside the chaos of the Department of Emergency Medicine for a new challenge – accepting the positions of executive associate dean of clinical services for Grady and chief medical officer of the Emory Medical Care Foundation. As the chief liaison for Emory University School of Medicine and Grady Health System, Dr. Haley is responsible for executive leadership, strategic vision, and direction for Emory's clinical, research, and teaching practices at Grady.
In a recent statement, Dr. Haley wrote, "Grady is a unique and special place – we make a difference in the lives of close to a million people every year. Our patients come from near and far, they are black, white, Hispanic, and Asian, they are rich and poor, they are insured and uninsured – it doesn't matter to the dedicated physicians, nurses, staff and administration. We are the ultimate safety net – that's why I practice at Grady."
Watch this video to learn about Dr. Haley's vision for the future of Emory at Grady.
It was an unlikely partnership—a newly formed, suburban medical school and an urban hospital for the poor—but it's one that has stood the test of time. For the past 100 years, every Emory medical student has received clinical training at Grady. This summer, we're exploring the remarkable history of Emory at Grady.
Related Links/Sources
• The Legacy of Emory at Grady: Notable Firsts
• Raising the Bar: 150 Years of a Medical School in Motion
• Grady Health System
• Emory University School of Medicine
• Emory University Department of Medicine
• Jordan Messler's April 2015 presentation at Medicine Grand Rounds
• A Marriage Made in Atlanta
• Emory at Grady