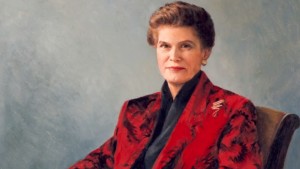 Luella Klein, MD is credited with bringing maternal-fetal medicine to Emory University School of Medicine and Grady Memorial Hospital. Dr. Klein—who served on the Emory Department of Gynecology and Obstetrics faculty from 1965 to 2013—devoted her career to the advancement of women's health.
Dr. Klein was born in Walker, Iowa—a town of fewer than 500 people—in the Great Depression. Her father worked in a lumber yard, and her mother was a teacher. In a 1984 interview with the New York Times, she said, "The amount of science education I received as a child, you could put in your eyes… I was discouraged at the University of Iowa from pursuing a career in medicine, but I enrolled in its medical school, anyway, where I was one of two women in my class."
After receiving her MD in 1949, Dr. Klein decided to specialize in obstetrics and gynecology. She rejected the advice of older doctors to pursue a career in dermatology—a field considered "more appropriate" for women. "I liked obstetrics and gynecology because it is a field that combines medicine and surgery and would allow me to work with women," she said.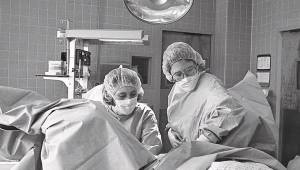 Dr. Klein went on to become a Fulbright Fellow; the Charles Howard Candler Professor of gynecology and obstetrics at Emory University School of Medicine; the director of Grady Memorial Hospital's Maternal and Infant Care Project (Grady's comprehensive care program for high-risk obstetric patients); the director of the teen services clinic at Grady Memorial Hospital; the first woman to serve as chair of an Emory department; and the first woman to serve as president of the American Congress of Obstetricians and Gynecologists (ACOG). She has received several honors for her work, including the Atlanta Woman History Maker Award, the Emory Medal, and the ACOG's Luella Klein Lifetime Achievement Award (her namesake).
Throughout her 60-year career, Dr. Klein championed equality in health care for adolescent, low-income, incarcerated, and LBTQI+ women; women of color; women with disabilities; women with HIV; and other underserved populations. She also oversaw ACOG's infant mortality review, substance abuse treatment initiative, and domestic violence intervention program.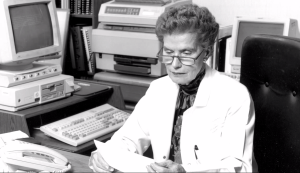 In addition to her contributions to women's health care and reproductive health policy, Dr. Klein has been
instrumental in shaping Emory's resident and medical student education. As chair of the Department of Gynecology and Obstetrics from 1986 to 1993, excellence in education was one of her primary goals. She believes that experienced clinicians have a duty to teach the physician leaders of tomorrow.
It was an unlikely partnership—a newly formed, suburban medical school and an urban hospital for the poor—but it's one that has stood the test of time. For the past 100 years, every Emory medical student has received clinical training at Grady. This summer, we're exploring the remarkable history of Emory at Grady.
Related Links/Sources
• The Legacy of Emory at Grady: Notable Firsts
• Raising the Bar: 150 Years of a Medical School in Motion
• Emory University Department of Gynecology and Obstetrics
• Grady Health System
• Emory University School of Medicine
• Emory University Department of Medicine
• Jordan Messler's April 2015 presentation at Medicine Grand Rounds
• A Marriage Made in Atlanta
• Emory at Grady