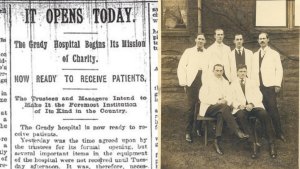 Grady Memorial Hospital opened its doors on June 2, 1892. The hospital—named for former Atlanta Constitution managing editor and "New South" proponent Henry W. Grady—comprised 110 beds, an operating room, and an amphitheater for students and staff. At that time, Atlanta had only one other hospital of significant size (St. Joseph's Infirmary, founded in 1880).
Following Grady's death on December 23, 1889, the Atlanta City Council appropriated $30,000 to establish the city's first public hospital in his honor. The hospital's original site was a 4-acre lot purchased from Lemuel "L.P." Grant (for whom Grant Park is named).
On December 23, 1890—the one-year anniversary of Grady's death—the building's cornerstone was laid in an elaborate ceremony featuring Masonic rituals, a Zouave band, and an address by Major John T. Glenn.
From its inception, Grady Memorial has embodied Henry W. Grady's vision of a hospital dedicated to providing health care to the city's indigent, low-income, and trauma patients—those who need it most.
Today, Grady is Atlanta's premier Level 1 trauma center and an internationally recognized teaching hospital staffed exclusively by doctors from Emory University and Morehouse schools of medicine. In fact, 25 percent of all doctors practicing medicine in Georgia received some or all of their training at Grady.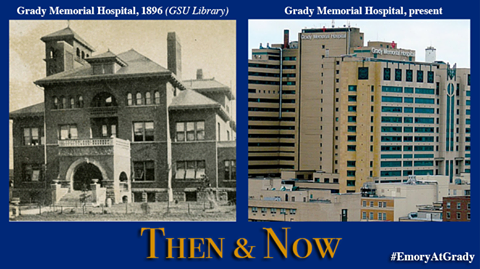 Emory University School of Medicine is proud to have partnered with Grady Memorial Hospital for more than 100 years of #EmoryAtGrady.
Related Links/Sources
• The Legacy of Emory at Grady: The Beginning (Pt 1)
• Grady Health System
• Emory University School of Medicine
• Emory University Department of Medicine
• Jordan Messler's April 2015 presentation at Medicine Grand Rounds
• A Marriage Made in Atlanta
• Emory at Grady
• Atlanta and Environs: A Chronicle of Its People and Events, 1880s-1930s